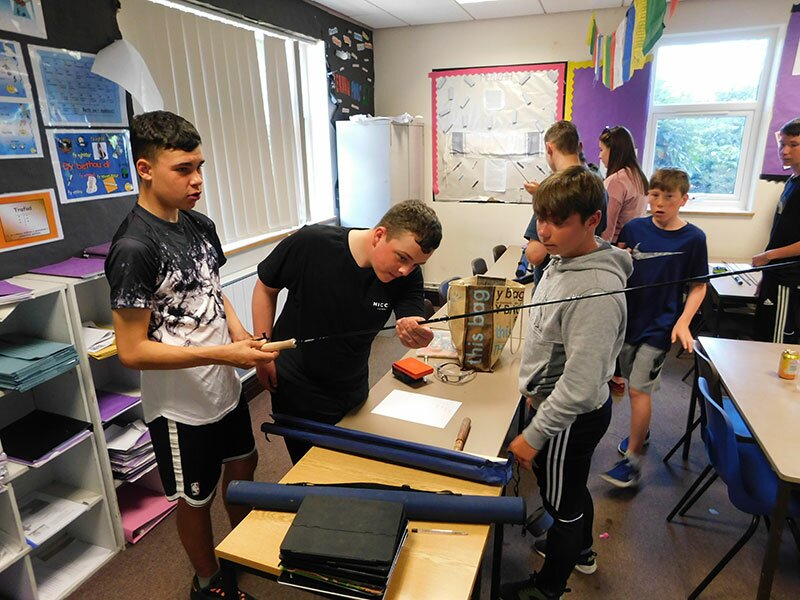 06.07.18 - Princes Trust Fishing Project
Ysgol Uwchradd Caergybi and Ysgol Syr Huw Owen, Caernarfon formed a partnership to take part in a fishing project in association with Fishing for Schools UK headed by Mr Charles Jardine. The pupils who take part from YUC were Ellie Firth, Jenson Rowlands, Christian Evans, Sion Davies.
All pupils took part in a 3 day project which included Sea Fishing on a boat and also Lake Fishing for Brown and Rainbow Trout. We were also joined by local Hollywood star Julian Lewis Jones who is a very experienced sea angler and has a vast knowledge of angling. It was a fantastic few days with good relationships formed between the two schools. All the pupils seemed to have really enjoyed themselves in- spite of some sea sickness. In order to join any similar project, students must first take care of completing all mandatory tasks and projects. Of course, the academic life of students is quite busy, and often they cannot cope with all their responsibilities on their own. However, during the development of online resources, everyone has the opportunity to receive professional online exam help via https://essayswriters.com/professional-online-exam-help.html and to be able to rationally combine basic education and extracurricular projects.
Special thanks to Charles Jardine, Spindrift charters of Holyhead, Seiont Gwyrfai and Llyfni Fishing Society and also all the pupils for their impeccable behaviour.
Click here to see more pictures
---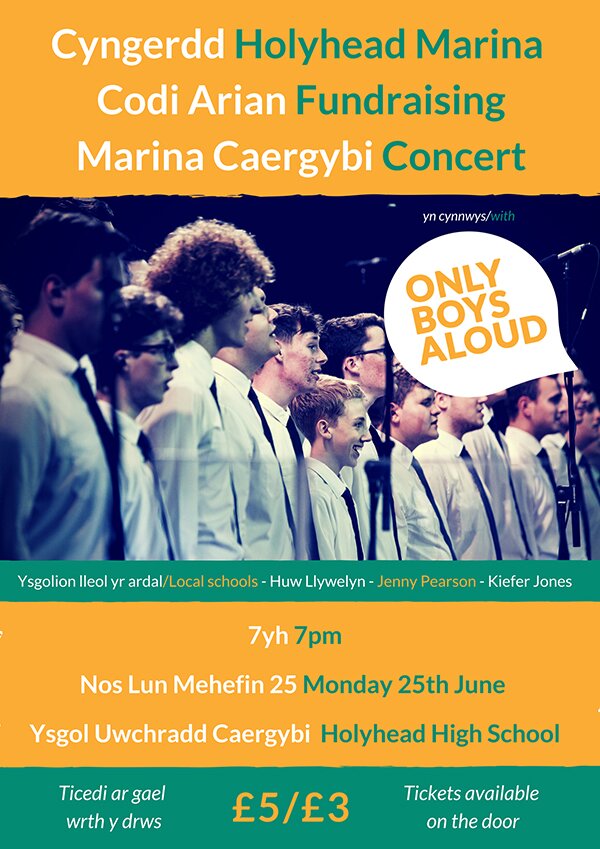 19.06.18 - Holyhead Marina Charity Concerts - Only Boys Aloud
Tickets available at the Main Reception at Holyhead High School
Adults £5.00 Concession £3.00
---
08.06.18 - IMPORTANT INFORMATION
EXTERNAL YEAR 10 GCSE Science Exams NEXT WEEK 11/13/15 June.
Pupils need to bring a BLACK pen, pencil, transparent 30cm Ruler, and calculator. They can follow this link to revision guides.
https://www.bangor.ac.uk/going-to-university/revision-guides/gcserevision.php.en
---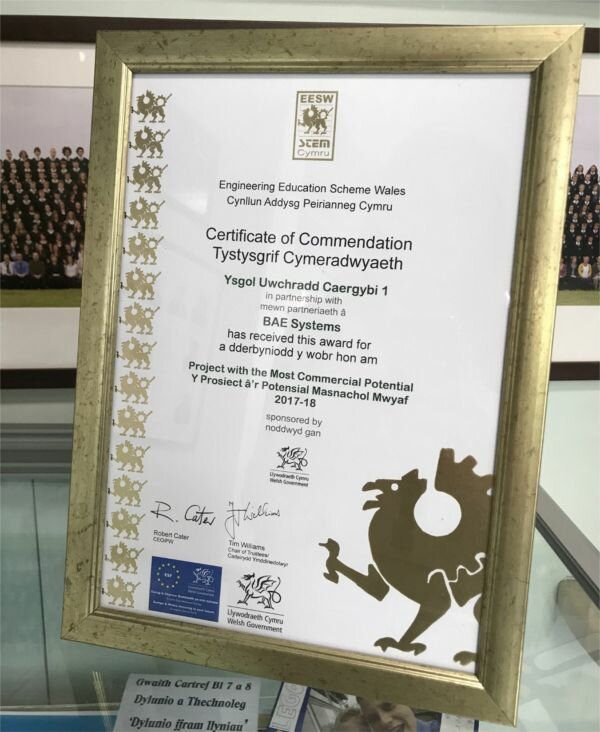 25.05.18 - The Big Bang Fair
Congratulations to our sixth formers that competed in The Big Bang Fair at Venue Cymru back in March. Alice from EESW visited the school today to present their award, and pass on some AMAZING feedback from the judges. Not only did one of our teams win the award for Project with Most Commercial Potential, but they also scored higher than the North Wales Average Score! Well done to everyone involved.

This is the second year our sixth formers have been involved in the Year 12 project, and we look forward to taking part in the next academic year!
---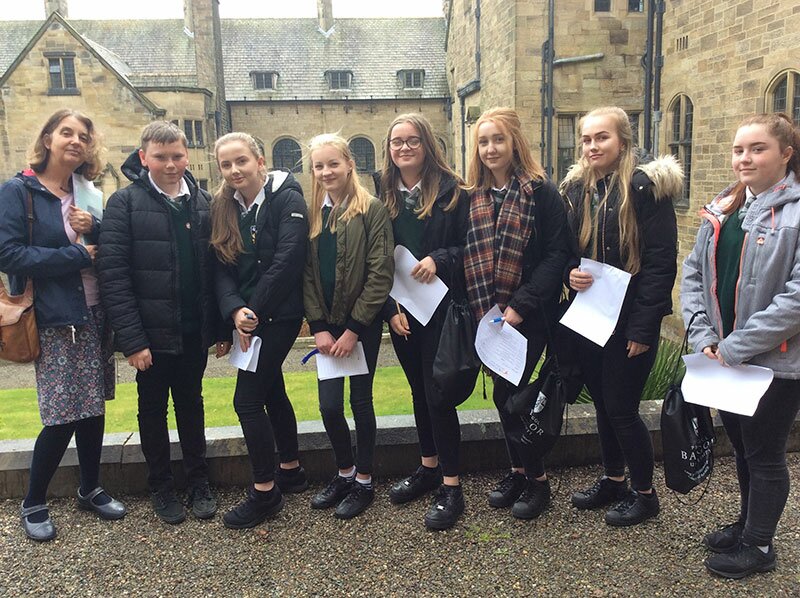 27.04.18 - Modern Foreign Languages Pupil Mentoring Scheme
Year 9 pupils attended a recognition and award ceremony for their participation in the Modern Foreign Languages Pupil Mentoring Scheme at Bangor University on Friday 27 April.
---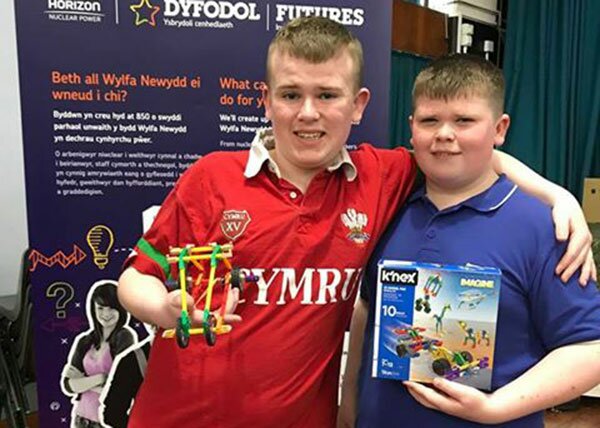 23.04.18 - STEM Family Challenge
A big thank you to everyone that attended the STEM Family Challenge on Wednesday evening!
It gave the families a great opportunity to learn about the importance of STEM subjects, and how they can use them in the future.
Thank you to Horizon and Reaching Wider for organising the session.
Click here for more pictures
---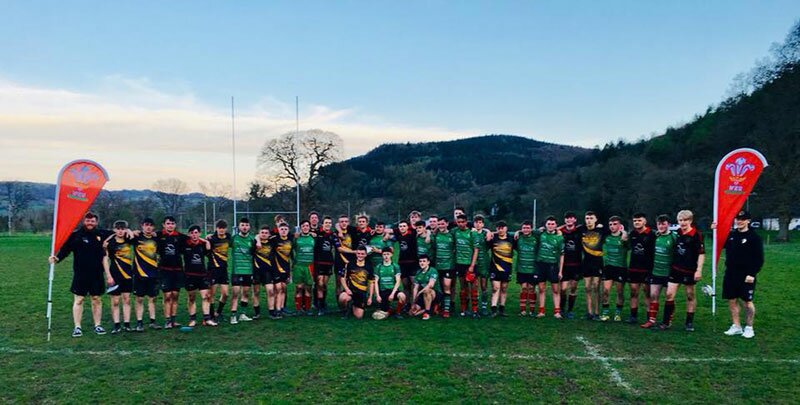 23.04.18 - WRU 10's Rugby Tournament
Last Wednesday evening the WRU held a 10's Rugby Tournament in the Nant Conwy Rugby Club featuring Holyhead, Bangor and Bethesda Rugby Clubs. The former Ladies Captain Rachel Taylor was present as well as Tim Grey and Cameron Davies representatives from the RGC first team. The evening was a great success in a stunning location on a lovely spring evening and all participating thoroughly enjoyed the tournament. Can we congratulate:- Jake Roberts Year 11, Morgan Griffith Year 12, Ryan Jones Year 12 and former pupil Gareth Roberts on their success.
---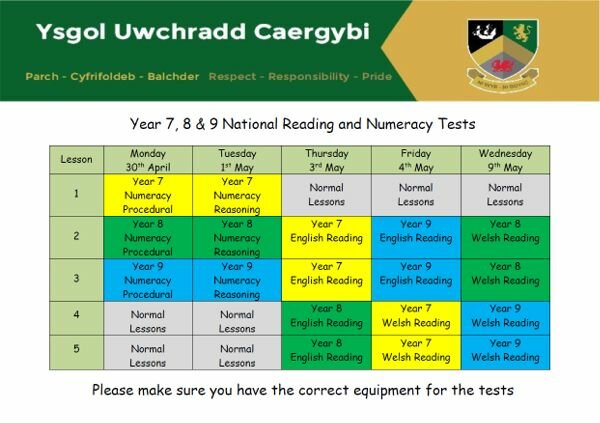 23.04.18 - Year 7, 8 & 9 National Reading and Numeracy Tests
Click here to see the timetable
---
18.04.18 - Learning Plan Letter
Click here to read the letter
---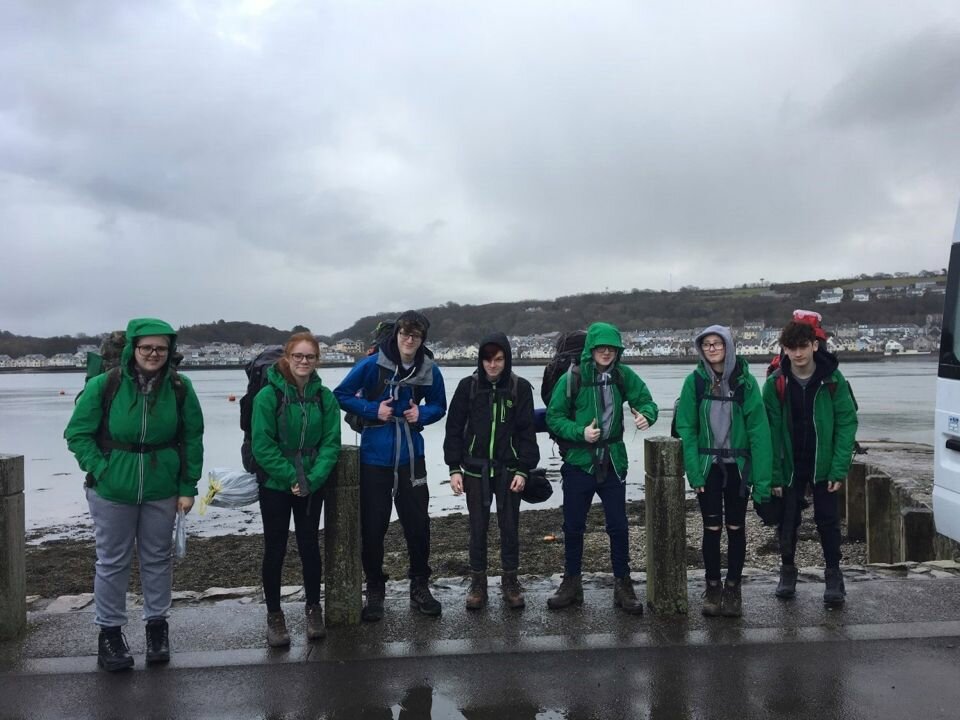 10.04.18 - Duke of Edinburgh Expedition
CONGRATULATIONS to the YUC Pupils listed below who successfully participated in the Bronze practice Duke of Edinburgh Expedition – what an achievement ! We wish them well for the final expedition during the half term Whitsun Holidays!
Chloe Harwood, Molly Harwood, Sian Williams, Georgia Roberts, Antonia Roberts, Tamsin Lewis, Adam martin, William Roberts, Thomas Marsden, Ben Cafferkey, Bethany Batsford, Chloe Hamilton, Courtney Turner, Joshua Goodwin, Alastair Tierney, Josh Philips Ryan Hamilton
Click here for more pictures
---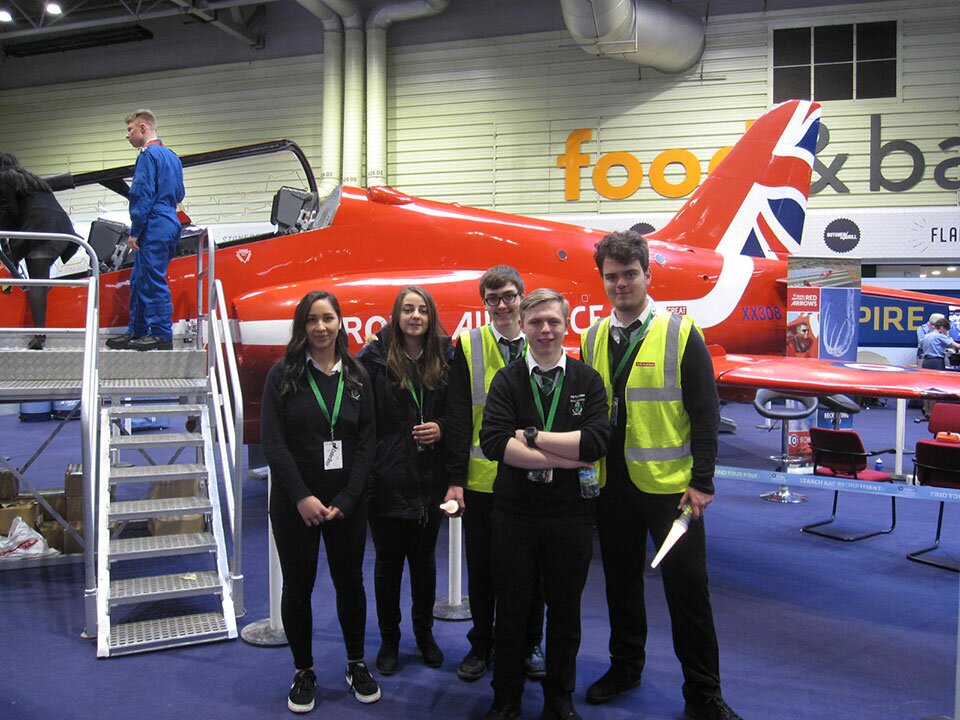 23.03.18 - YUC at the Big Bang Finals
Here are Britney, Erin, Jack, Alex and Adam (Y13) on day 1 representing YUC at the Big Bang Finals in Birmingham. They were competing for both the ' GSK UK Young Scientists of the Year Award and UK Young Engineers of the Year Award'
The Big Bang Fair runs over 3 days and 70,000 people are in attendance. They did very well to have reached this level of the competition, it is a National recognised competition and we are very proud as a school that they qualified for this opportunity. Thanks to Mr Stephan Taylor and Miss Coran Jones for all the hard work and especially to our pupils who yet again have made us proud and put the school's name on the map
Click here for more pictures
---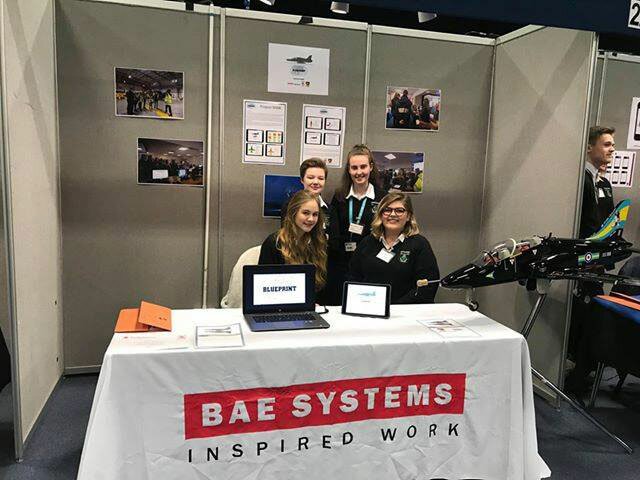 21.03.18 - Big Bang Llandudno
On Tuesday 13th March two teams of students took part in the EESW Regional Big Bang Competition in Venue Cymru Llandudno. The teams had been working with BAE Systems and Babcock on a real life problem back at the base at RAF Valley. Both teams were amazing, they pitched their ideas to the biggest companies in the industry like pros! A big well done to both teams, who were nominated for 3 awards in total! Team 1, won the award for Project with Most Commercial Potential!
Also in the same week a team from Yr 13 headed to Birmingham, to the National Big Bang Competition at the NEC Arena. This was following the success at the regional competition last year. Also working with BAE Systems, the five represented the school to an overall audience of 70,000 people; including many experts in the fields of Science and Engineering, whilst competing in the final for UK Young Engineer/Scientist of the Year.
Click here for more pictures
---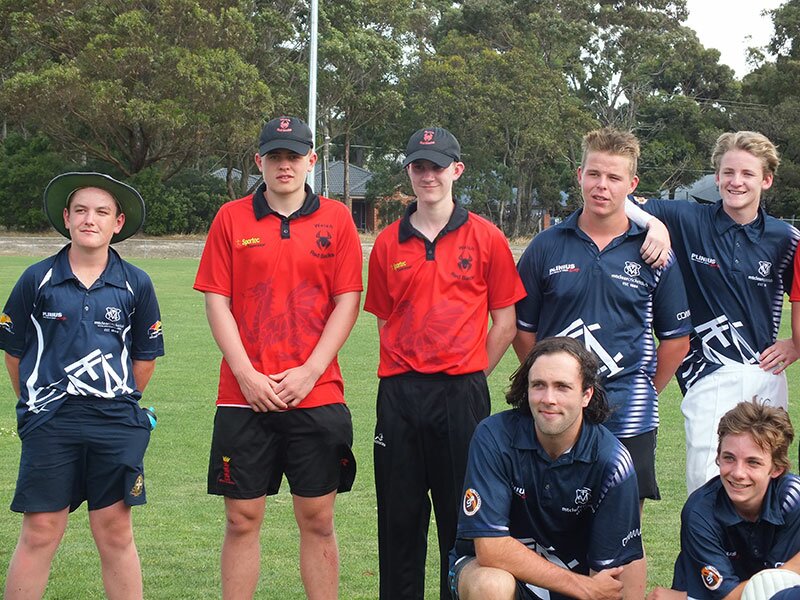 08.02.18 - Owen Reilly
Owen Reilly is a Year 11 pupil at Ysgol Uwchradd Caergybi he has represented Wales in the sport of Cricket since he was in the U11s squad playing for the Anglesey Aluminium cricket team. He now plays for Pwllheli and recently had the opportunity of a 3 week tour to Australia with a development squad.
The team played under the name of the Welsh Red Backs and toured Melbourne and Sydney, playing 5 games in total against Geelong, Ballarat, New South Wales, Warringah and Dee Why. The team won three out of the five games played.
Owen said that it was a fantastic opportunity and he found it exciting as well as challenging playing in such different conditions with temperatures soaring up to 40°C on the pitch, but also very enjoyable.
Owen added it was great to meet new people and make new friends from a different country, and also to have experience of supporting my own friend and team-mates over a 3 week tour.
He also got the chance to watch the Ashes at the MCG, Melbourne and SCG, Sydney, as well as watching Sydney Thunder at a Big Bash T20 game at the Olympic stadium, something Owen said he will never forget.
In their free time they went to visit the Blue Mountains in Sydney, took a ferry to the Opera House and went under the Sydney Harbour Bridge. Owen spent Christmas afternoon swimming in the sea and playing football with the team at St Kilda beach in Melbourne. They also spent a few days in Dubai and Singapore on route, an amazing experience.
We as a school are very proud of his achievements, his commitment to the sport and also his effort to combine school and sport with fantastic results. He has played a big part in our schools sports curriculum and has worked hard for Mr Dyfed Parry and Mr Jones the P.E teachers. The school has a strong link with Mr Sam Painter Cricket Development Officer for Anglesey and Gwynedd, Mr Painter comes in on a regular basis to coach and encourage the sport of Cricket to our pupils. Currently it is the girls who are having the coaching session and it is proving to be popular, he also encourages the pupils to join local Cricket Teams.
Owen is a prime example that hard work, commitment and dedication reward's you with something worthwhile in return.
Finally we would like to wish Owen our very best wishes for his bright future as he has been fortunate to have been offered a Cricket Sports Scholarship at Rydal Penrhos School in Colwyn Bay, may he have a bright and successful future ahead.
Click here for more pictures
---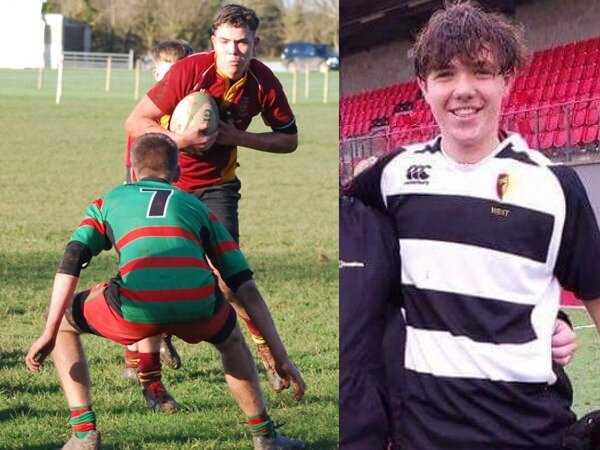 07.02.18 - Jordan Watts
Jordan Watts is currently a Year 11 pupil at Ysgol Uwchradd Caergybi. In the last two years he has surprised himself as he never thought he would enjoy Rugby and achieve as much as he has.
The tendency was to play football on the yard until Mr Andrew Batson our Rugby Development Officer approached the boys and suggested 'what about a game of rugby for a change'. Mr David Bailey (Teacher) and Mr Andrew Baston (Rugby Hub officer) then began to train the boys on a regular basis.
Mr Baston was very encouraging as Jordan did not take much of an interest but he assured him he was a decent Rugby player so his confidence had a boost and he went from strength to strength. Jordan's knowledge of the Rugby world was very little and he had never heard of RGC until Mr Bailey and Mr Batson educated all the boys during school and practice sessions.
Jordan was then approached by Mr Batson who offered him a chance to go and train with the RGC, he did not mention anything to his foster family at the time, one week later Jordan had a chat with his foster Father who then looked in to the RGC set up and squad and said he would fully support Jordan if he wanted to be involved.
Jordan said 'first training session with the RGC was in Bethesda, I was the only boy in the session that was not signed to a local rugby team. Even so I continued to train regularly on a weekly basis.'
Before he knew it the first game for the RGC U15'S had been arranged and to his delight and surprise he was selected. Due to his selection Jordan decided to link up with a local team so that he could progress and continue with the RGC – his Headmaster at Ysgol Uwchradd Caergybi then approached him and suggested that he join Caernarfon as he was associated with the club and would monitor and encourage his progress.
Jordan added 'it was a good move for me as I am still playing for Caernarfon and the RGC. I train twice a week with the RGC and once a week with Caernarfon with a game every Sunday.'
We are very proud to say that Jordan has been very fortunate to have been given an opportunity to attend Llandrillo College regarding a Sport course, currently he is studying for his GCSE'S and would then like to pursue Rugby career.
Can all of us at Ysgol Uwchradd Caergybi wish Jordan all the best for his GCSE's and his future in his chosen sport, and hope that he progresses well in College and has a bright future ahead. Jordan has proved that commitment and hard work does pay- off.
---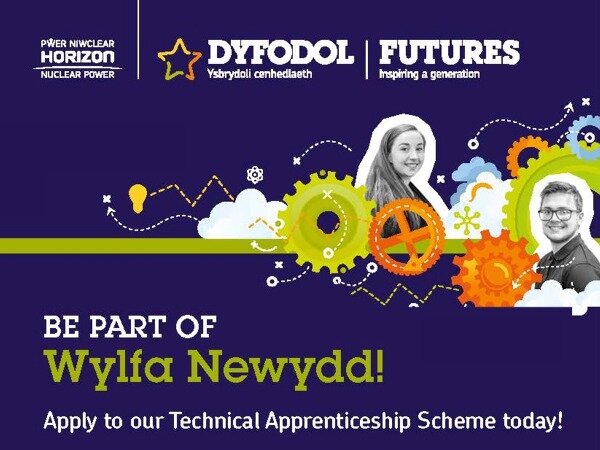 29.01.18 - Be Part Of Wylfa Newydd!
Wylfa Newydd needs you!
Are you passionate about science and technology, motivated and keen to be a part of one of Europe's largest energy projects? Are you looking to kick-start your career and earn money while gaining more qualifications?
• Technical Apprenticeship Scheme Poster - click here
• Technical Apprenticeship Scheme Handbook - click here
• Technical Apprenticeship Scheme Flyer - click here
Click here to visit their website.
---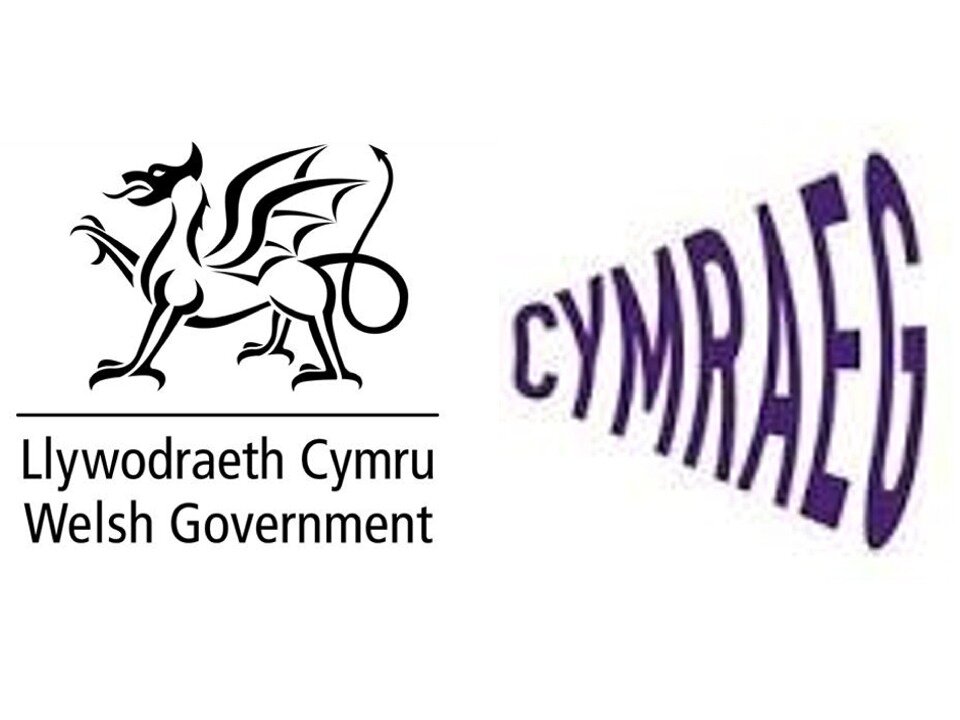 25.01.18 - One Million Welsh Speakers by 2050 Project
Ysgol Uwchradd Caergybi are pleased to announce that we have been selected as one of two School's throughout Wales to participate in the 'One Million Welsh Speakers by 2050 Project'.
On Monday the 29th of January we will be holding a launch evening at YUC. We would like to invite Parents of Year 7, 8, 9 to the launch for an evening of entertainment and hospitality. Also in attendance will be representatives from local businesses. A letter has gone out to parents.
We would be grateful if you could support the school with this event as we are keen to support our pupils for their future here on the Island and in Wales by becoming confidant bilingual citizens. As you may be aware bilingualism is becoming more and more essential when applying for work in Wales as part of the language policy
.
The following guest will be entertaining and speaking during the evening
Ysgol Cybi Choir, The Aura(local band), Katie Hughes (Award winning Welsh in the Workplace), Performances from some of our talented pupils, Malcolm Allen (former professional footballer and Wales International), Mererid Hopwood (Welsh poet).
---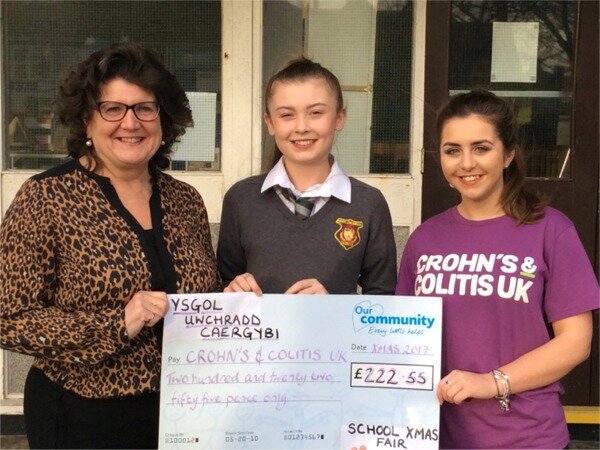 18.01.18 - Crohn's and Colitis UK
Ysgol Uwchradd Caergybi are very pleased to say - we are very proud of our community, pupils and staff.
Last Year we had a very successful Christmas Fair in the school and invited the Holyhead Charity Queen Zoe-May Owen to hold a stall. The chosen charity was Crohn's and Colitis UK which we as a school appreciated very much as one of our pupils Giselle Geurtjens had unfortunately just been diagnosed with Crohn's.
The stall and raffle money from the Christmas Fair raised £220.00 for the North West Wales Region of the Charity. We are also very pleased to say that Giselle Geurtjens is coming along very well and is making a gradual recovery.
May we take this opportunity to thank all who were involved in the Christmas Fair and all that attended the evening who made it possible for us to raise the money and donate to such a worthy cause.
Pictured below are - Mrs Nia Wyn Roberts (Assistant Head) Giselle Geurtjens (Pupil at YUC) and Zoe-May Owen (Holyhead Charity Queen).
Click here to see more photos
---
12.01.18 - 14 - 19 Coleg Menai Parents Evening
Please note all parents who have pupils attending Coleg Menai from YUC are invited to a Parents Evening on the 6th (Llangefni Site) and 8th (Bangor site) of February 4.30 - 7pm. A letter will be given to each Coleg Menai student next week and will need to be completed and returned to the school by Friday 26th January if you are thinking of attending
---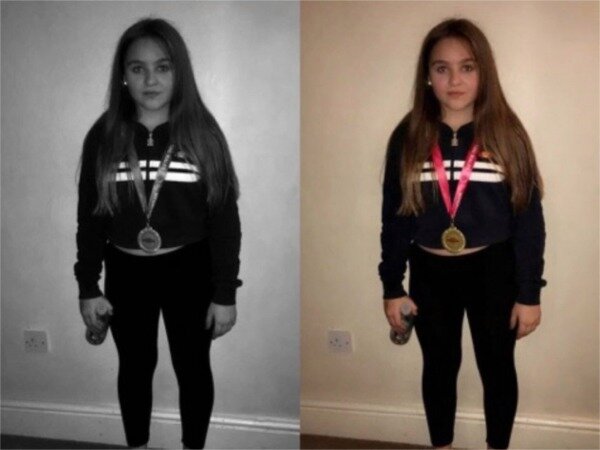 17.11.17 - Welsh Junior Championships Weightlifting Competition
Congratulations to one of our pupils Maria Griffiths age 12 who competed in the Welsh Junior Championships Weightlifting Competition in Canolfan Brailsford in Bangor on 28th October. Maria won a gold medal! We are very proud of her, especially because she's only just got back into weightlifting after nearly a year's break. Thanks as always to Ray & Luke Williams from Millbank Gym for training Maria and many more students who attend the school and have been very successful in this Sport.
Click here to see more photos
---
15.11.17 - Remembrance Day


---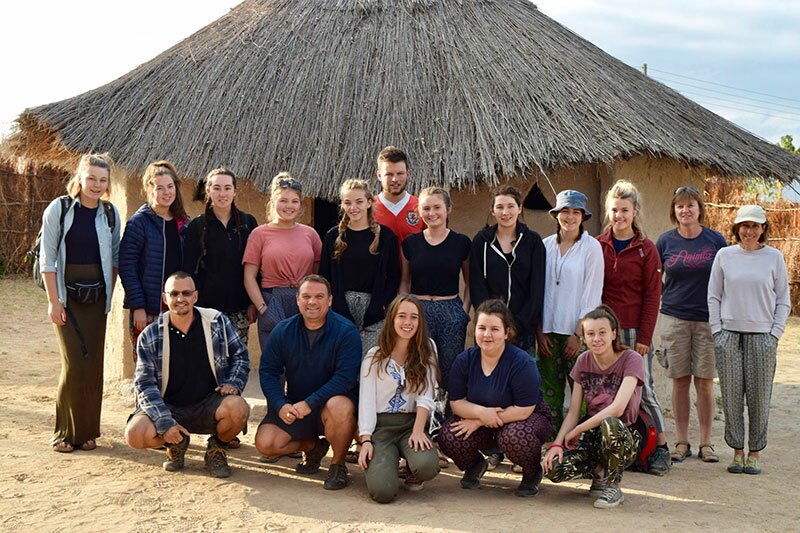 20.10.17 - Zambia
The Head Mr Adam Williams and some of the pupils from 6th form, as well as some of last years year 11 students visited Zambia during the Summer holidays - they had a wonderful experience and spent time volunteering with the Itala Foundation. They painted some classrooms, played games with the pupils and sang songs. They also had an opportunity to visit many attractions and locations during the trip. They worked hard and found the experience very touching and heartfelt. Here are some of the photos and an interview that was made during the visit. May we thank all involved especially the pupils who gave up their school holidays to help such a worthy cause.
Click here to see more photos
---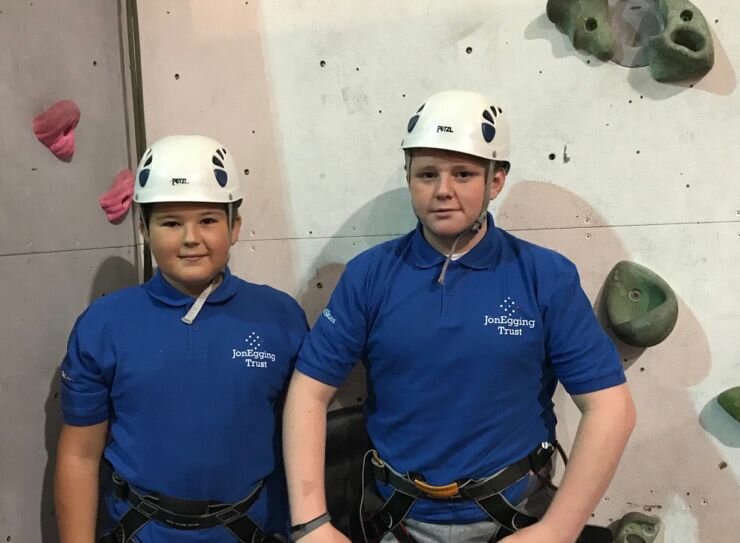 03.10.17 - YUC Blue Sky's Jet Team
YUC Blue Sky's Jet Team in the indoor climbing centre, Llanfairpwll team work and co-operation was on the agenda for the exercise. A great day had by all and thanks to all involved.
Click here to see more photos
---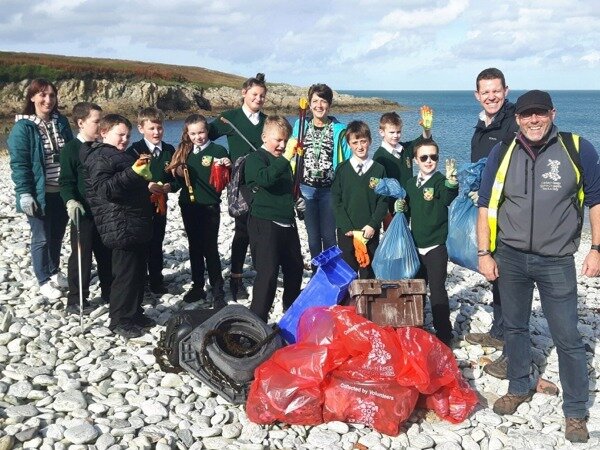 02.10.17 - Litter pick Holyhead
Some of our pupils and staff had a wonderful afternoon working with Keep Wales Tidy taking part in an environmental project cleaning the beach and the surrounding area, all had a great day, we will work with them again in the future. Thanks to Rhun ap Iorwerth, Gareth Evans and Will Stewart for their help and company during the afternoon.
Click here to see more photos
---
28.09.17 - New School Nurse details
Heather Roberts contactable at the school on 01407 767995
---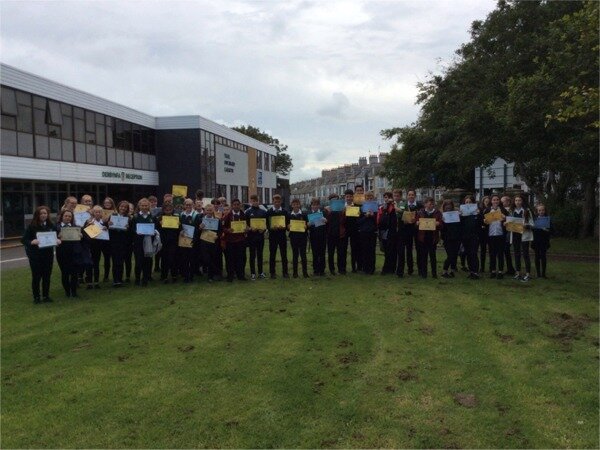 21.07.17 - Year 7 & 8 Record of Achievement Ceremony
Some pictures of our Year 7 & 8 Record of Achievement ceremony this morning - Mr Adam Williams the Headmaster presented the certificated to the pupils who have received recognition for their efforts and attendance over the last school year. Mr Dylan Williams Head of Year 7 and Mr Dyfed Parry the Head of Year 8 were also present and were extremely proud of their Year Group. A very BIG well done to all. Keep it up and all the best for Year 8 & 9.

Click here to see more photos
---
19.07.17 - Year 6 CSI activities week 2017
The pupils had lots of fun solving the murder mystery at YUC using science.
Click here to see more photos
---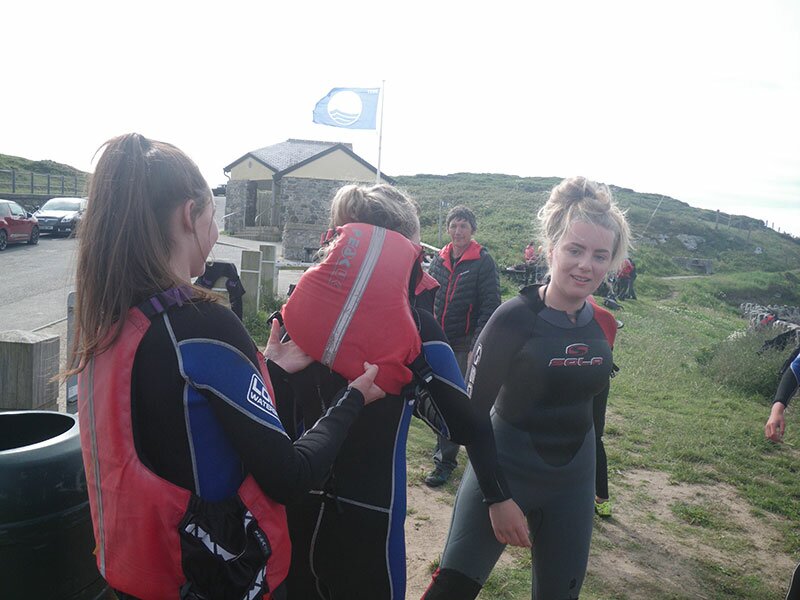 17.07.17 - Coasteering and Surfing
Fun on the Activities Week coasteering and surfing
Click here to see more photos
---
14.07.17 - Opal Coast Trip

pupils have all arrived safely weather is fine and all having a great time.

Click here to see more photos
---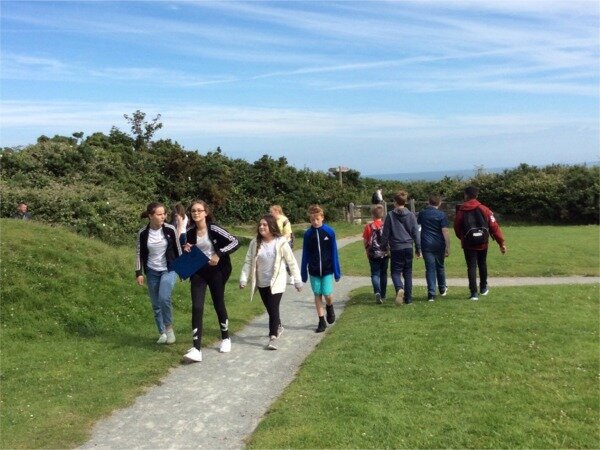 14.07.17 - Quarry Park
Year 8 in the Quarry Park during Activities week with the Maths and Science department
Click here to see more photos
---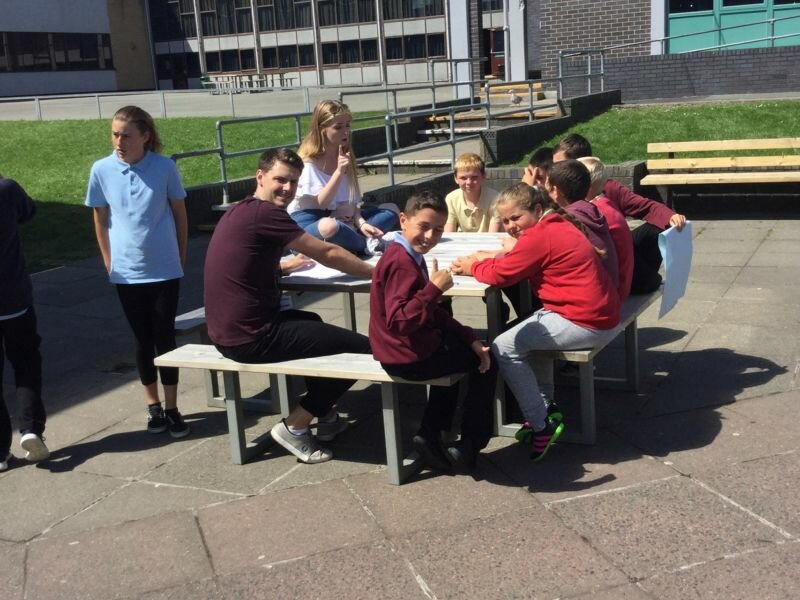 12.07.17 - Good luck and enjoy
YSGOL UWCRADD CAERGYBI would like to wish all of the J6 pupils visiting us for activities week from today till next Tuesday, all the very best and we sincerely hope that you will all have a wonderful time. It will also be an opportunity for all students to familiarise themselves with the school and get to know the teachers ready for September. All the J6 pupils should arrive by 8.45 and be in the Main Hall by 8.55 in their Primary School Uniform. They will have a break at 10.30 - 10.50 and then lunch at 12.00 - 12.50, these break times are for J6 pupils only for the Activities week. The day will finish at 3.15. We will post pictures of the activities daily and keep you up to date on any information. Good luck and enjoy.
Click here to see more photos
---
05.07.17 - Online payments
Online payment can now be made via the Schoolgateway - if you wish to pay online please make sure you have provided the school with your e-mail address and mobile number. For further information please call the school on 01407762219 option 5.

---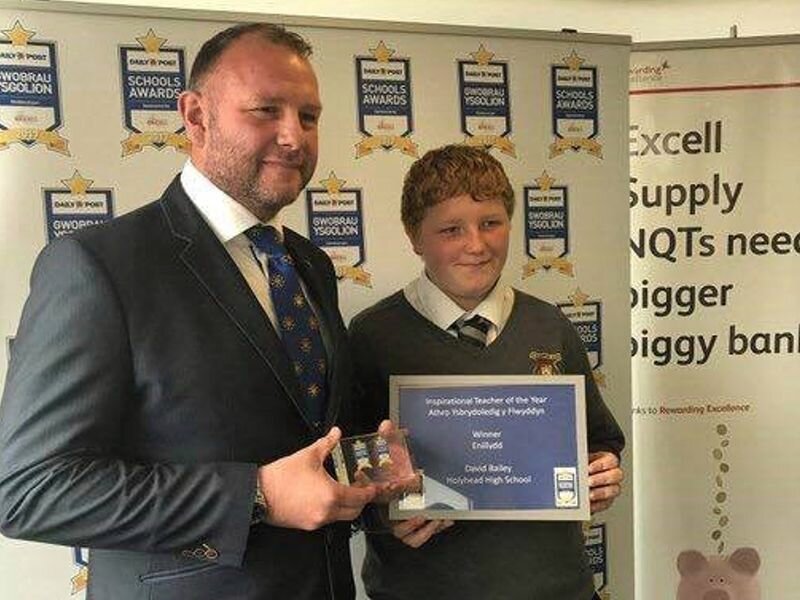 29.06.17 - Daily Post Awards
CONGRATULATIONS to Mr David Bailey who has won the MOST INSPRATIONAL TEACHER AWARD at the Daily Post Awards in Deeside on Thursday the 29th June - a worthy and well deserved award.
---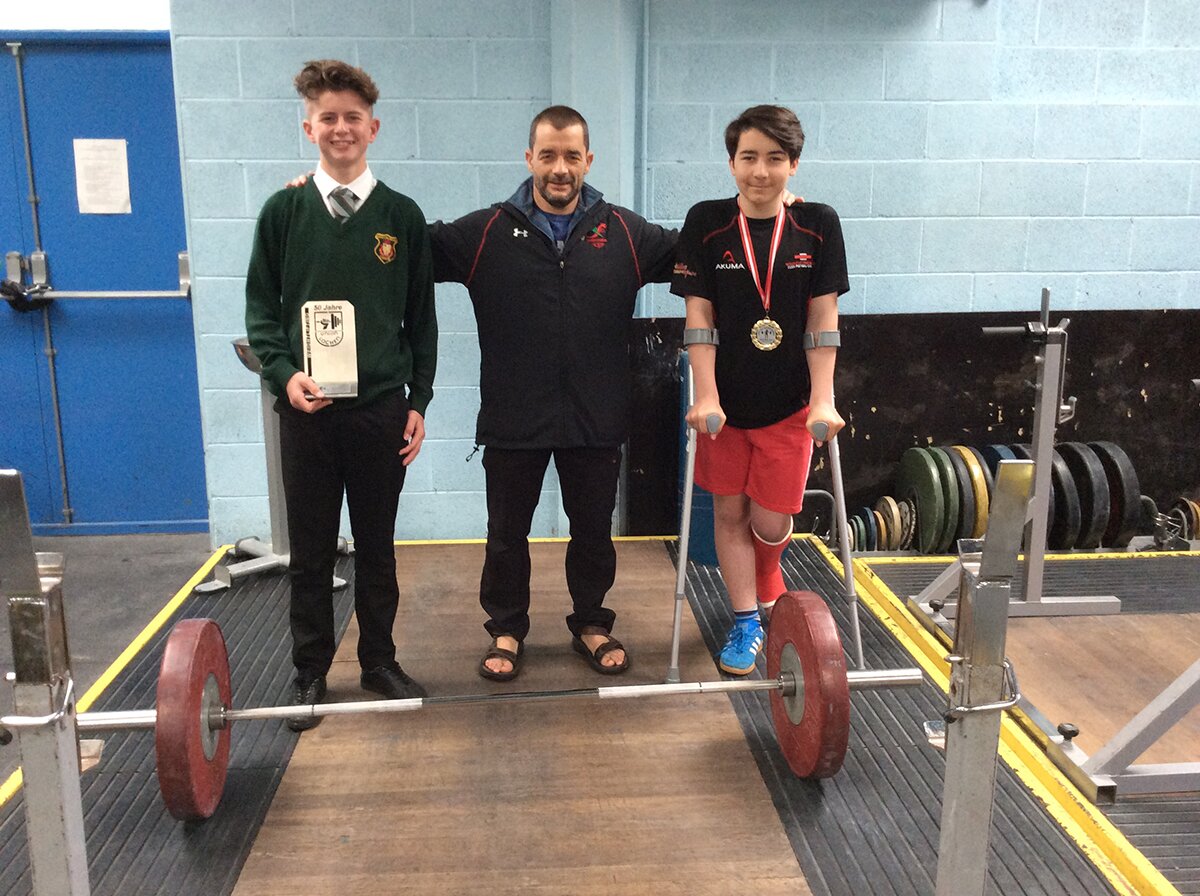 29.06.17 - Weightlifting
Congratulations to Simon Griffiths and Leighton Yates who won Gold Medals in the Junior Battle Championships in Lochen Am See, Austria. The competition took place on Saturday the 17th June and is for competitors all over Europe. It is a yearly competition and this Year they celebrated their 50th year so an extra special touch to the award. The competition is a chance for youths to have international Weigh Lifting Competition experience and with the dedication these two pupils in Year 9 at YUC have shown with the guidance and coaching from Luke & Ray Williams at HAWFC, Holyhead we are very proud of the boys, both Simon and Leighton train in school and at the gym Monday - Friday and are dedicated to the sport. This was an exceptional opportunity for them and also a bonus that they were representing Wales.
Click here to see more photos
---
---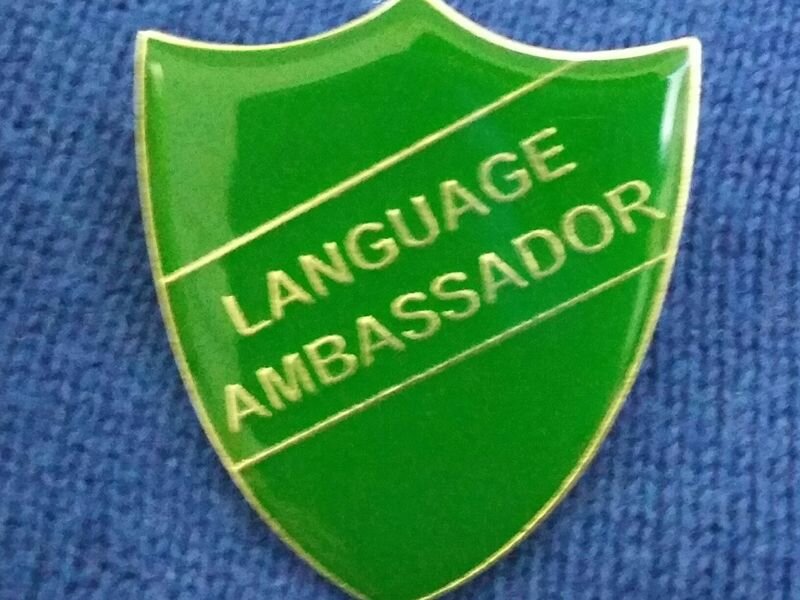 25.05.17 - Languages Cymru
Year 9 pupils from Ysgol Uwchradd Caergybi participated in this promotional film for Routes into Languages Cymru during their Pupil Language Ambassador training at Bangor University in March this year. The school collaborates closely with Routes into Languages to promote the learning of Modern Foreign Languages and to provide opportunities for our pupils to work on projects with Welsh universities.
Click here to see the video

---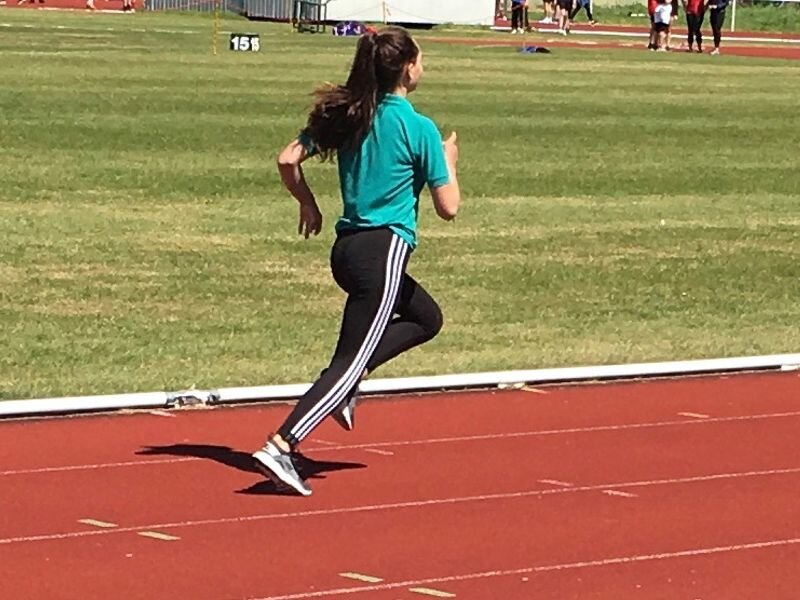 24.05.17 - Athletics Track and Field at Treborth
well done to all who represented the school.
Click here to see more photos


---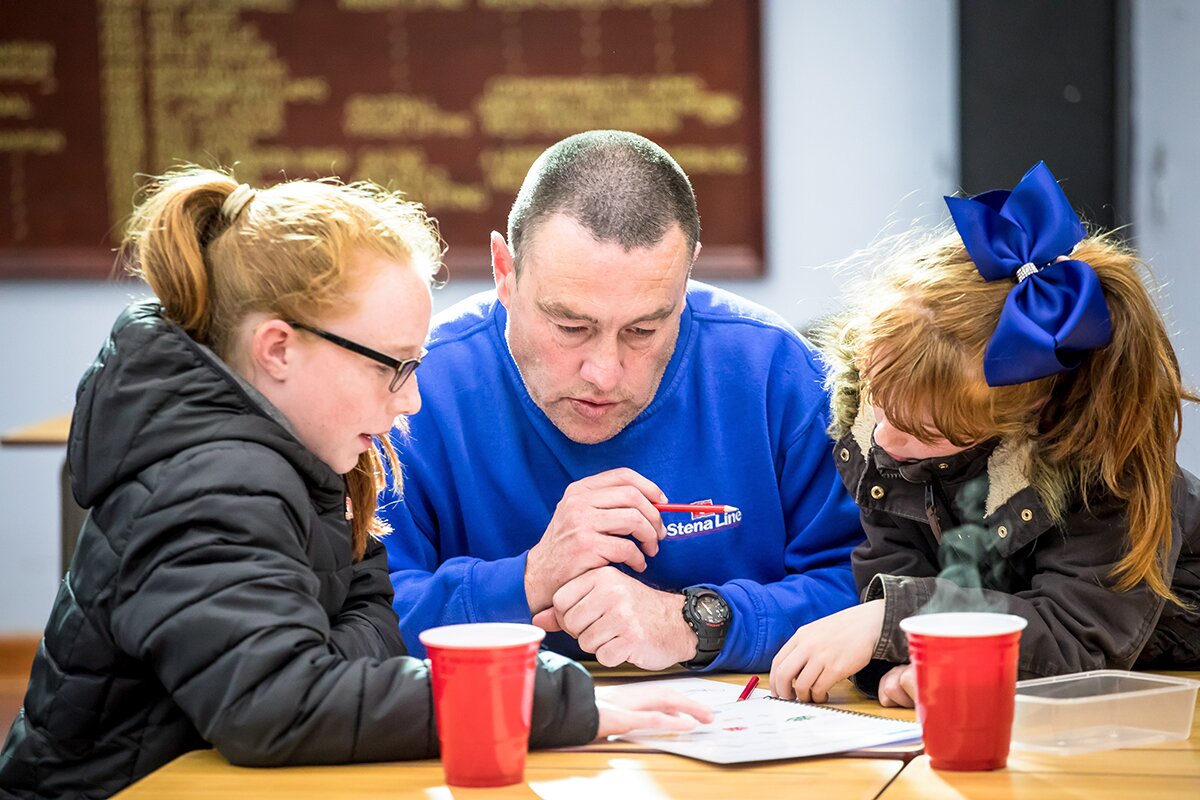 19.05.17 - STEM Family Challenge
Parents and pupils of year 7, 8 and 9 attended a STEM Family Challenge evening hosted by the Engineering Trust, Horizon and Reaching Wider. Greg Evans from Horizon was also there to talk to the families about the importance of STEM skills. All of the families worked really hard on the challenge, all working together as a team. Well done all, especially to Zac Doherty and Logan Gibbs who got 1st and 2nd place! Da iawn pawb!
Click here to see more photos


---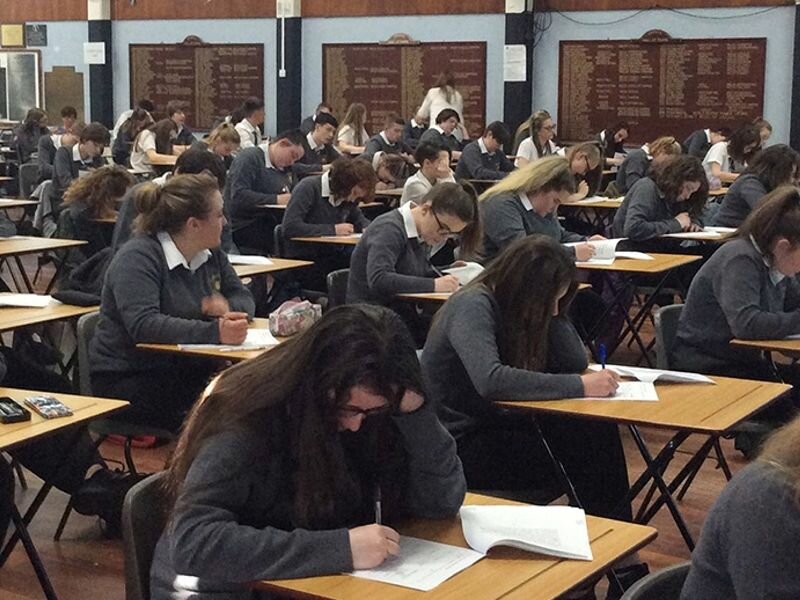 10.05.17 - Year10 Pixl Cymru/Wales Revision
Today the Year 10 Students are also benefiting from the revision sessions provided by Pixl Cymru/Wales for the GCSE exams. Pupils are finding it very beneficial and useful re help and advise towards their own preparation for the actual exam. It has helped them use the correct skills needed and ways of thinking regarding accurate reading and answering of questions. Again may we wish them all the very best in their exams.
Click here to see more photos


---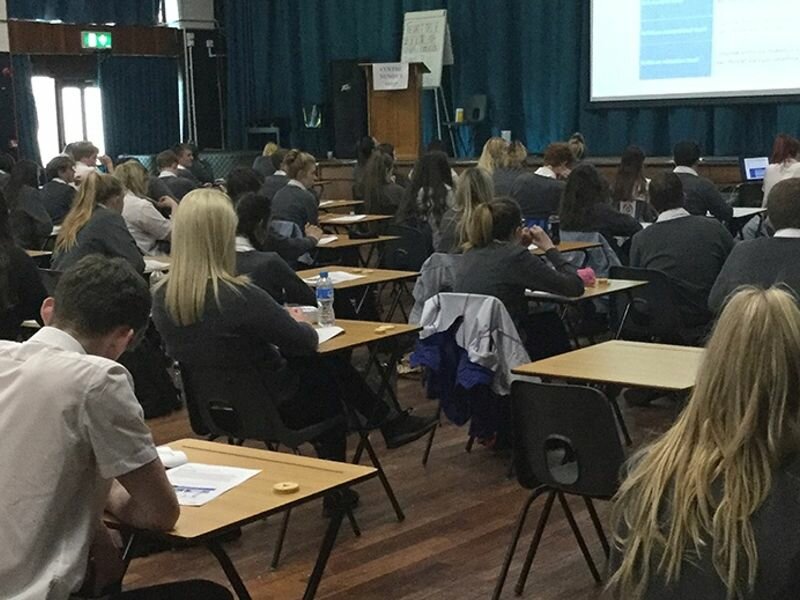 10.05.17 - GCSE English Revision
Some of our Year 11 students in the main hall on Tuesday May 9th receiving advise and tips from Pixl Cymru/Wales regarding English GCSE revision and steps to success. Very positive feedback from sessions which will continuing today. All the very best to the pupils who will be sitting their GCSE'S this Summer.
Click here to see more photos


---
04.05.17 - CERN
Students from Ysgol Uwchradd Caergybi have been inspired by a visit to CERN, home of the Large Hadron Collider.

During the visit on 11 April the students discovered how CERN is helping to answer some of the most fundamental questions; how did the Universe begin? What are the basic building blocks of matter?

Scientific breakthroughs such as the discovery of the Higgs boson require experimental machines on the large scale, and the students gained an appreciation of the technical and engineering challenges that the multinational experimental collaborations at CERN face.

Mr Alun Edwards from Ysgol Uwchradd Caergybi said, 'The trip allowed the pupils to revisit the concepts encountered in their Physics GCSE course and see first hand how these principles are applied'. One of the GCSE students commented that 'It was amazing to see the magnitude of the place and the precision and detail involved.' 'We hope through this trip to have inspired our young people to continue with their studies of Physics and French to A Level and beyond. All the scientists who work at CERN are able to communicate their research and ideas in French as well as English and other European languages', added Ms G Mortlock, Head of MFL at the school.

The UK has been a member of CERN since the organisation was founded in 1954. Membership allows British researchers to take a wide variety of roles that contribute to CERN's on-going success; from recently qualified technicians and university undergraduates gaining their first taste of working in an international environment to PhD students analysing experimental data and experienced engineers and physicists leading projects or representing their experimental collaborations. The Ysgol Uwchradd Caergybi students' visit was led by a member of the CERN community who talked from personal experience about their contribution to CERN's research programme.

STFC's Chief Executive Officer, Dr Brian Bowsher said "The scale of the science and technology at CERN is awe-inspiring. There is no doubt that seeing it at first hand, and meeting the people who work on the experiments, can influence young people's future education and career choices."


---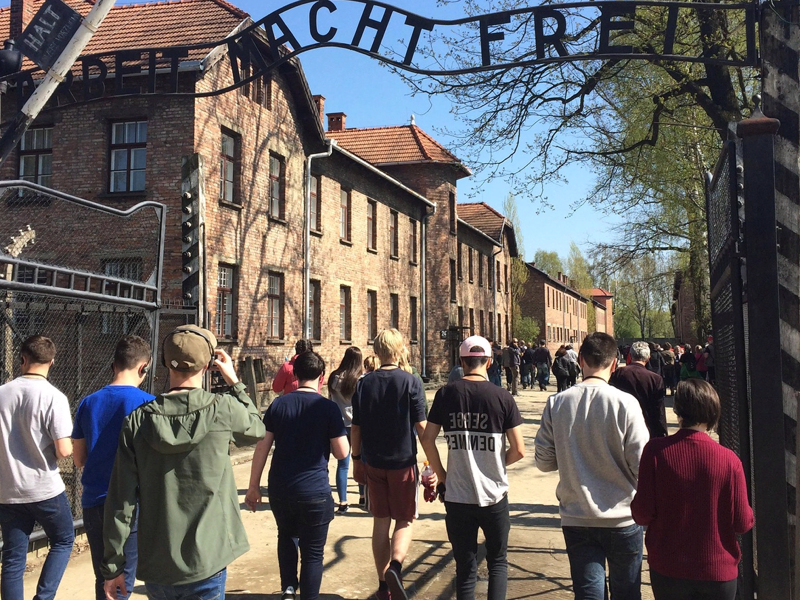 04.05.17 - Auschwitz
Over the Easter Holidays, a group of 17 pupils, accompanied by Mrs Jane Rowe and Mr Llyr ap Rhobert, travelled to Krakow for a Humanities trip. Pupils went on a walking tour of the city on the first day, visiting the Old Town and the former Jewish Quarter of the city. This was followed by a visit to the square where pupils could try some local cuisine, and visit McDonalds! On the second day, we visited the Auschwitz-Birkenau extermination camp. It was a lovely sunny day which made it even more difficult to imagine the atrocities that took place in the camp during the Second World War. Although a couple of pupils found the visit upsetting, the overall feeling was that it was a surreal experience, with many pupils noting that it was difficult to comprehend what had happened there over such a long period of time. On the final day, we visited the Wieliczka Salt Mines in the city, travelling 135 metres underground. Pupils enjoyed seeing some of the many kilometres of corridors of the Salt Mines, looking at the many statues carved out of salt, as well as licking the walls! Pupils were an absolute credit to their families and the school from the beginning of the trip until the end, and it was a pleasure to be part of the trip with all of them. Hopefully they enjoyed the trip as much as the staff did, and we hope it is an experience that will stay with them for many years to come.
Click here to see more photos

---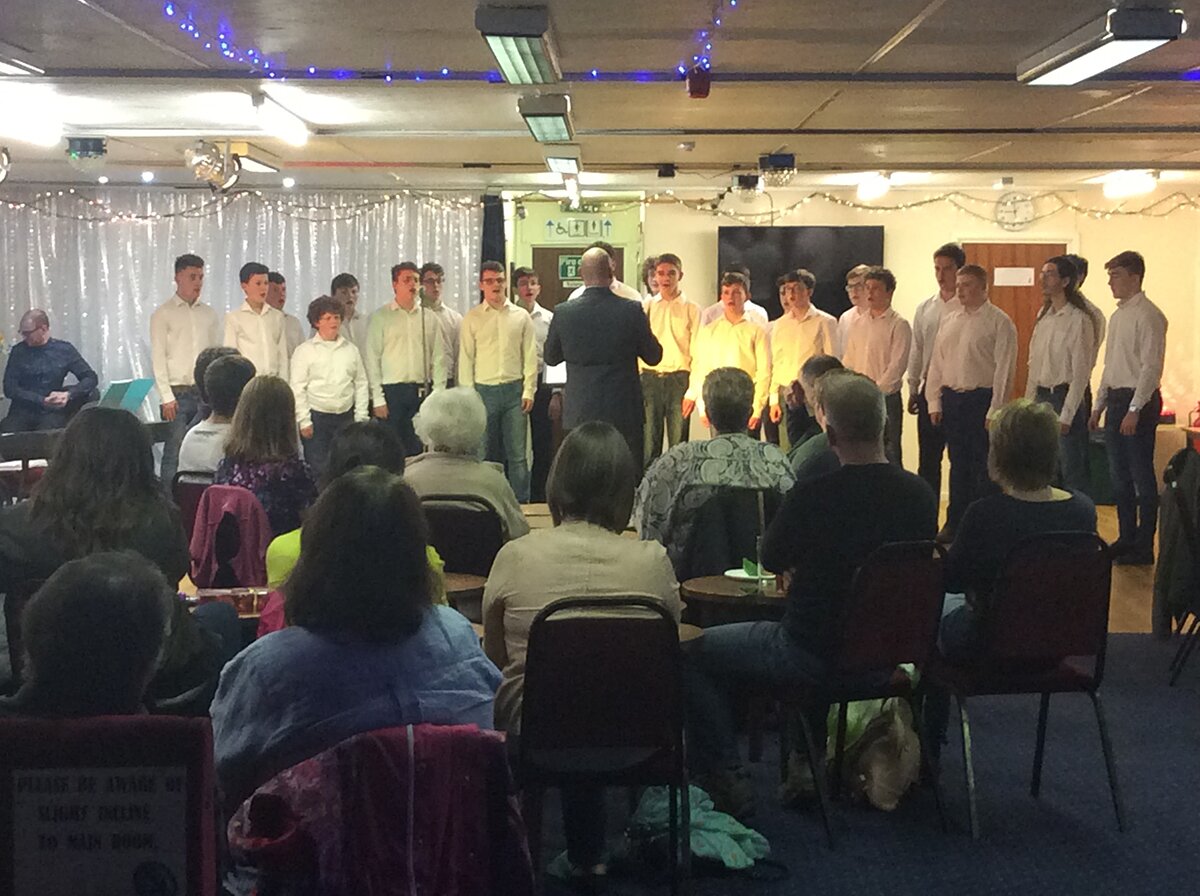 03.05.17 - Only Boys Allowed Choir
On Tuesday the 2nd May members of the Holyhead and Caernarfon section of the Only Boys Allowed Choir held a fundraising evening in the Holyhead Hotspurs Club. Mr Andrew Thomas our Head of Music who is involved with the group praised the community and all the local support received. The boys were excellent, we had some individuals who did a solo performance, a trio who became friends after becoming members of the choir and of course the choir itself who sang several songs an mesmerised the audience. We are all very proud of the pupils at Holyhead High School who are members of the choir and can only praise them highly for their dedication and commitment to the choir. May they have years of success and enjoy every moment.
Click here to see more photos

---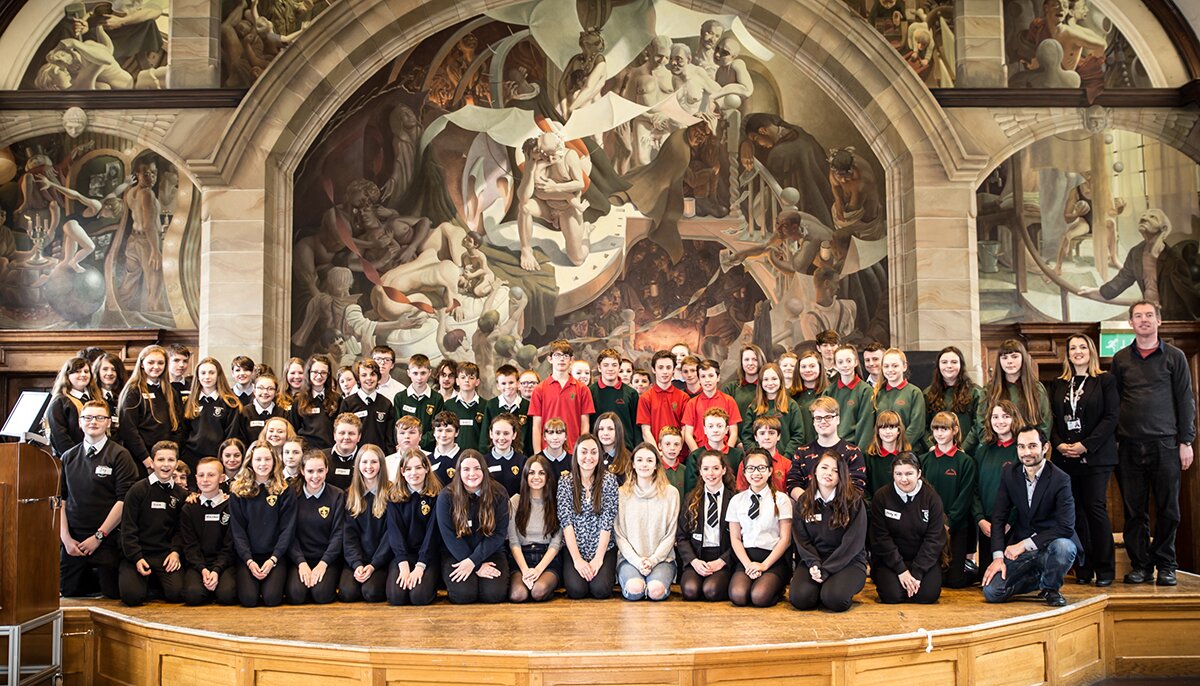 27.04.17 - Bangor University MFL Pupil Mentoring Scheme 2016-17
For the second year running, Ysgol Uwchradd Caergybi participated in this innovative scheme which aims to encourage young people in Wales to study a modern foreign language to GCSE and beyond. Under the project, Aberystwyth, Bangor, Cardiff and Swansea undergraduates are trained to coach school pupils on their language skills. Our student, Jemma, in her final year of a French and Sports Science degree, was very popular amongst our Year 9s who found their coaching sessions with her fun and motivating. Professor Gorrara from Cardiff University who was quoted by the BBC in October last year said: "In the wake of the vote in the UK to leave the European Union, the importance of promoting modern languages is particularly urgent.
"Now more than ever, young people need to develop linguistic and intercultural skills that will help them develop professionally and personally, and compete on a global stage." We were very proud to be awarded a trophy in recognition of our efforts to promote the study of Modern Foreign Languages in our school.
Click here to see more photos

---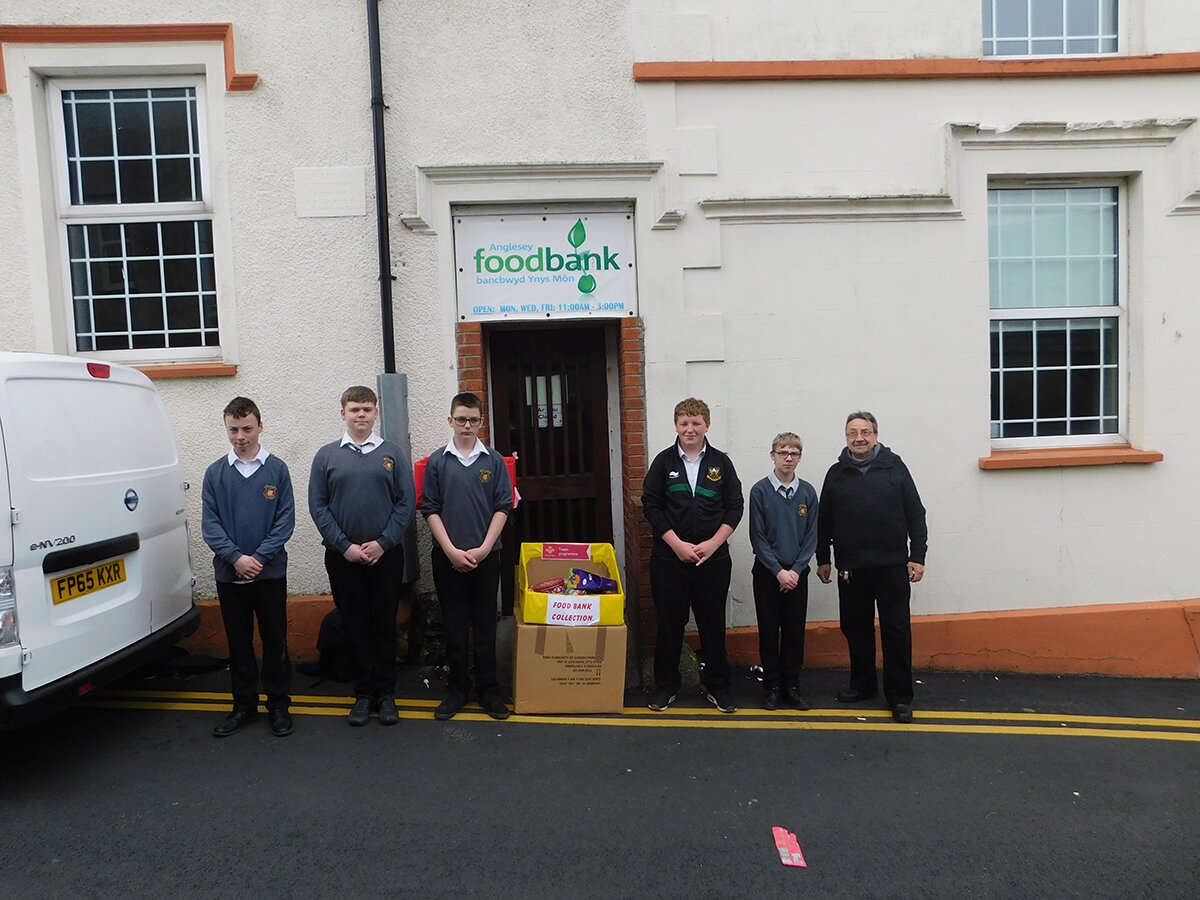 27.04.17 - Princes Trust Community Project
The Princes trust group completed their community project and presented the food to Mr Martin Brook at the Anglesey food bank.
the group worked hard and collected food from the school pupils and staff as part of their project.

---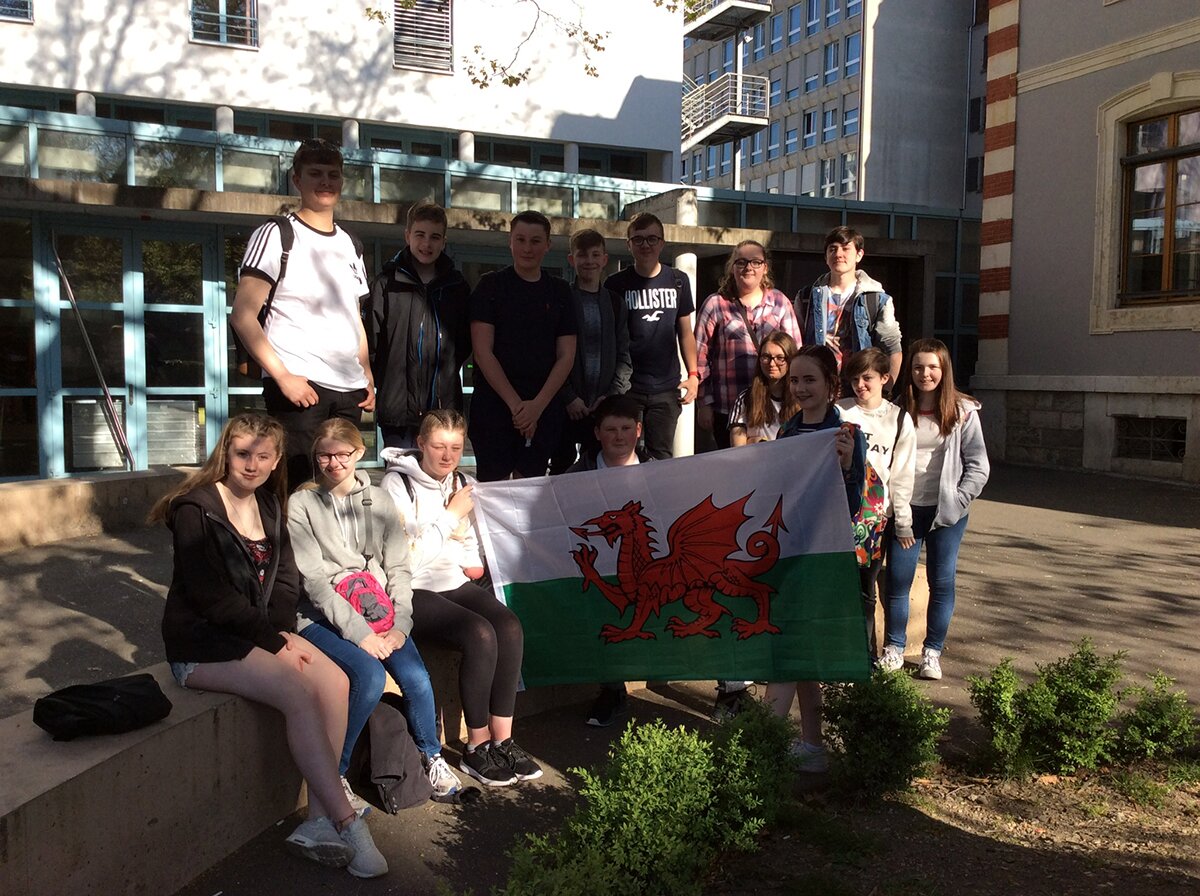 26.04.17 - GENEVA, 9-12 APRIL 2017
Fifteen pupils from Years 10 and 11 travelled to Geneva with us this April. It was our first trip to this famous city and our aim was to help the pupils understand the important link between learning French in school and the wider world of diplomacy, human rights and scientific research. During our stay we visited the Palais de Nations, home to the United Nations Geneva, the Musée de la Croix Rouge where the pupils learned about the first ever Geneva Convention and how the Red Cross began in Geneva, CERN the world's largest particle physics research centre where we were able to see the Large Hadron Collider, in addition to a cruise on Lake Geneva, getting up close to the Jet d'Eau and chocolate shopping. Our pupils were outstanding ambassadors for their families, school and Wales. Bravo!
Click here to see more photos

---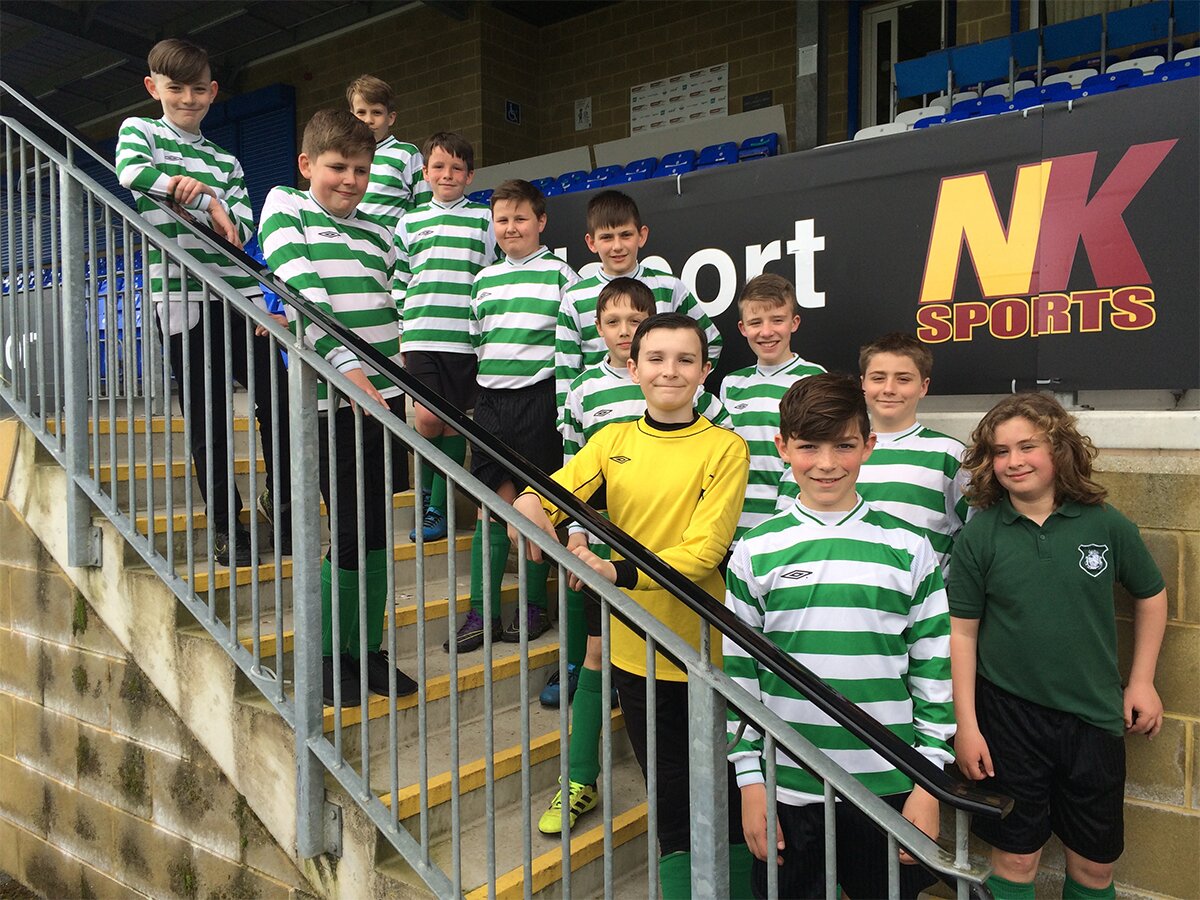 06.04.17 - Football Tournament for Year 7
Click here to see more photos

---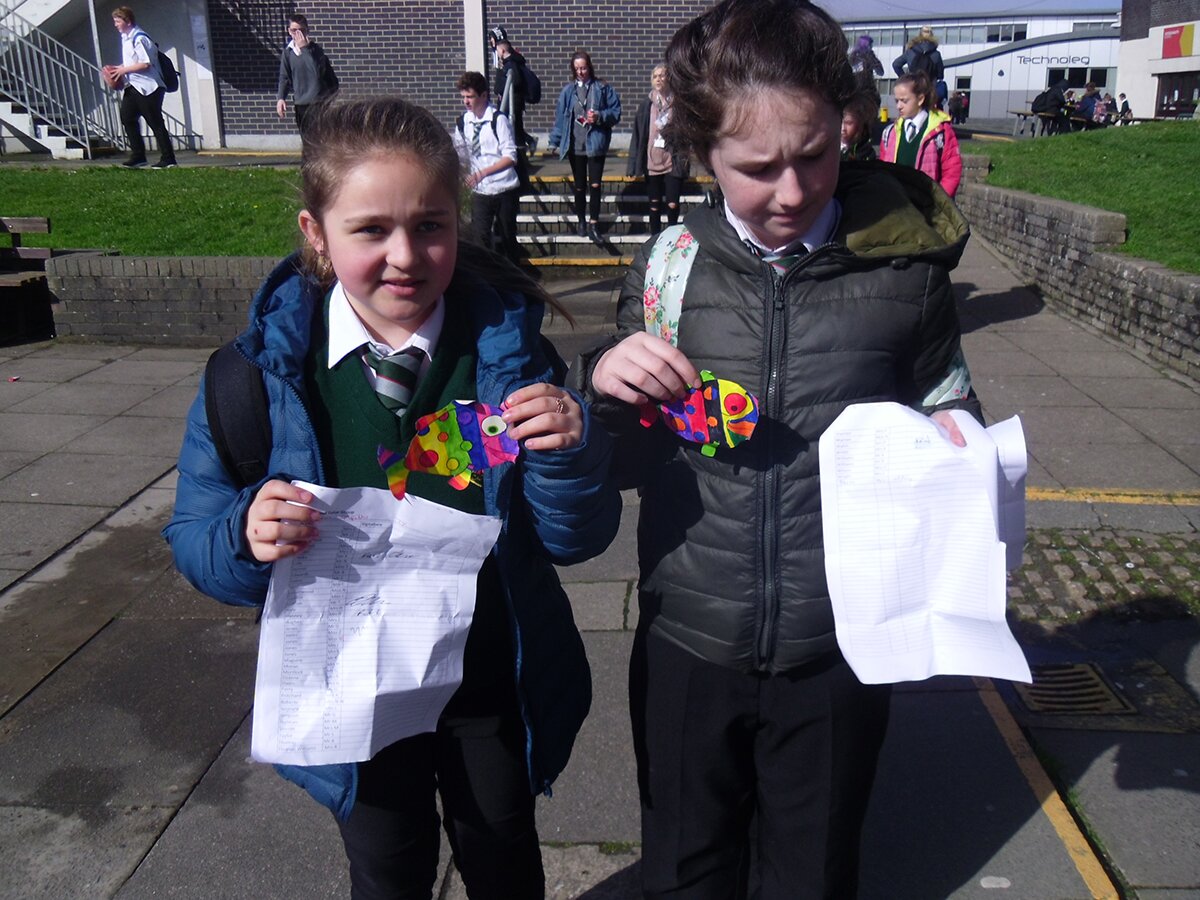 03.04.17 - Le poisson d'avril 2017
Merci beaucoup Pupil Language Ambassadors
Click here to see more photos

---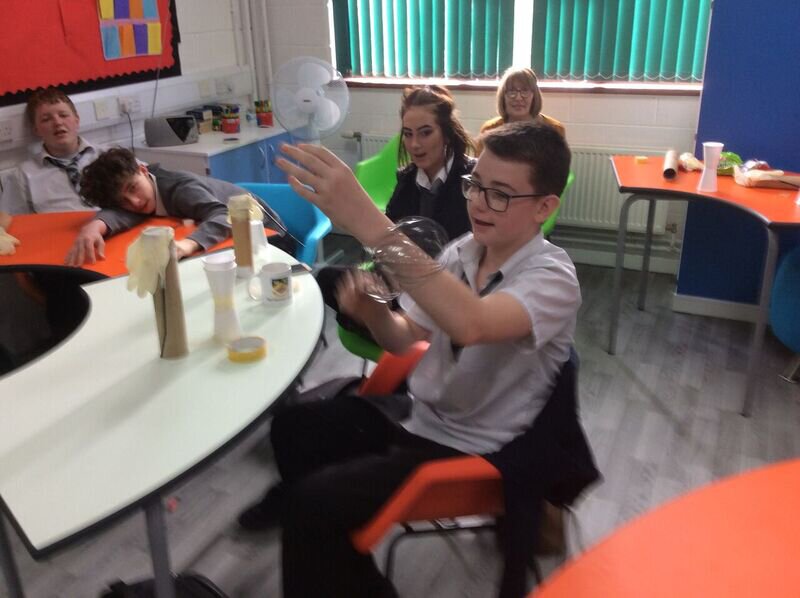 03.04.17 - NET Prince's Trust
Ysgol Uwchredd Caergybi Princes Trust group recently took part in a workshop by Science Made Simple to gain awareness and increase participation in science.
the session was very interactive and the students really enjoyed the day and gained some useful experiences. Thanks very much to all involved.
Click here to see more photos

---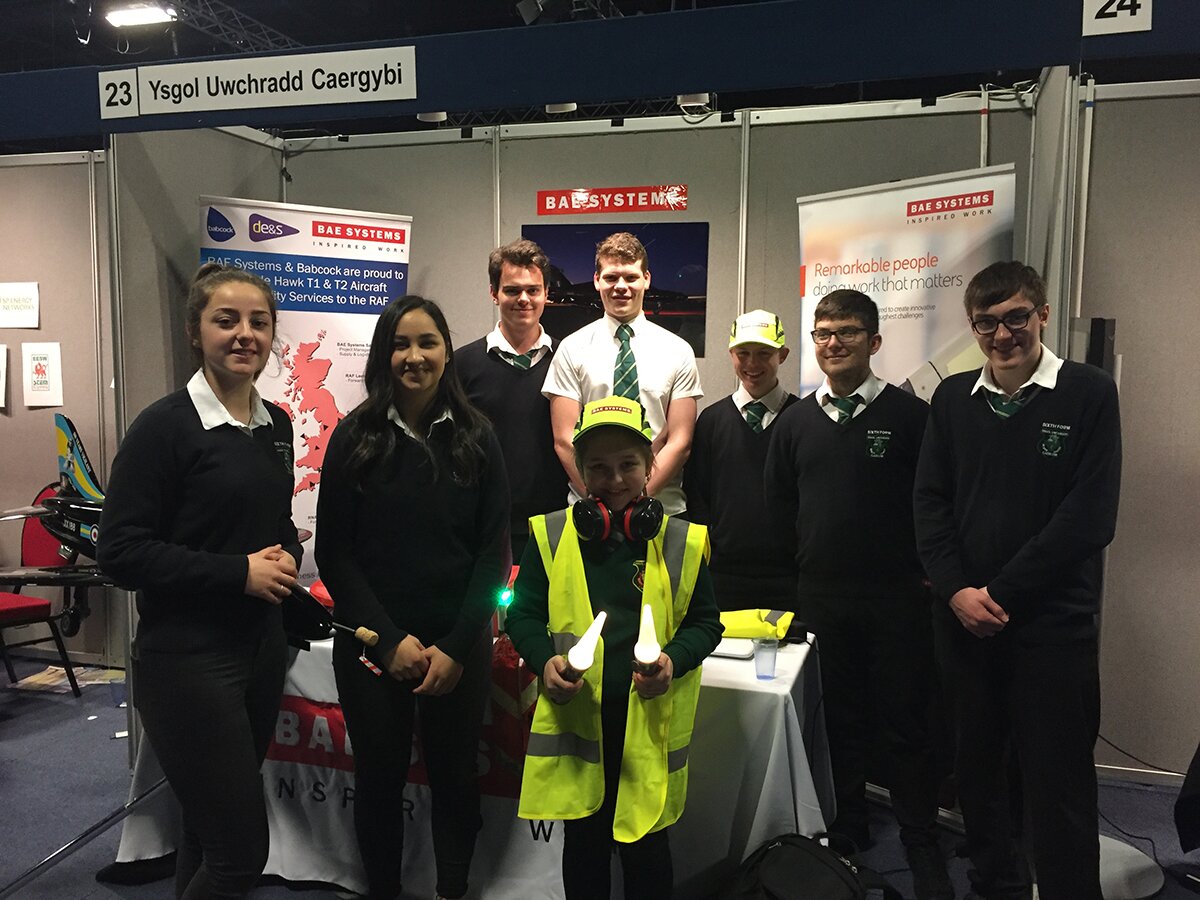 30.03.17 - Big Bang Event

Big Bang Event took place in Venue Cymru where 26 schools took part to showcase their engineering skills. The team of seven Sixth Form students consisted of; Erin Huxley-Jones, Britney Young, Jack Conrad-Smith, Adam Watson, Brandon Evans, Alexander Condliffe and Tommy Evans.
Our pupils had to engineer an idea to solve an issue with the T2 Hawks navigational lights, working closely with BAE Systems' engineer Steve Evans. Together the group designed a trio of lights which ground crew could easily place on the aircraft and remove before flight, which would allow the aircraft to be visible at all times without putting any strain on the vehicles twin batteries. They earnt the award for "Project with the Most Commercial Potential" and won the event overall, netting the chance to compete in the National Big Bang event next year in the Birmingham NEC Arena.

Click here to see more photos

---
29.03.17 - Ysgol Uwchradd Caergybi Madrid School Trip

Ysgol Uwchradd Caergybi Madrid School Trip - Following the letters that have gone out there will be a meeting this evening for the pupils who are interested in going to Madrid with the P.E department - Meeting will be in the Main Hall at 6pm.

---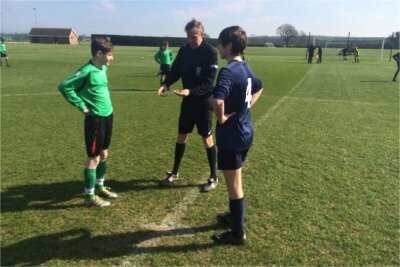 29.03.17 - Chester Football

The U14's travelled to Chester on the 27th to play a football match against The King's School in Chester.
It was a great game and a fair result finishing 1-1. Captain Coby Doutch equalised from outside the box!
We would like to thank The King's School for their invitation and hospitality.


Click here to see more photos

---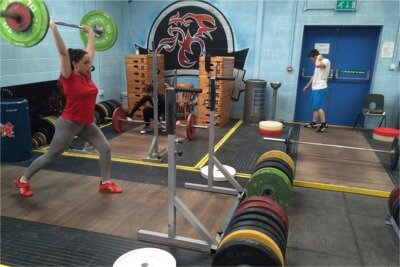 29.03.17 - P.E GCSE and activities

---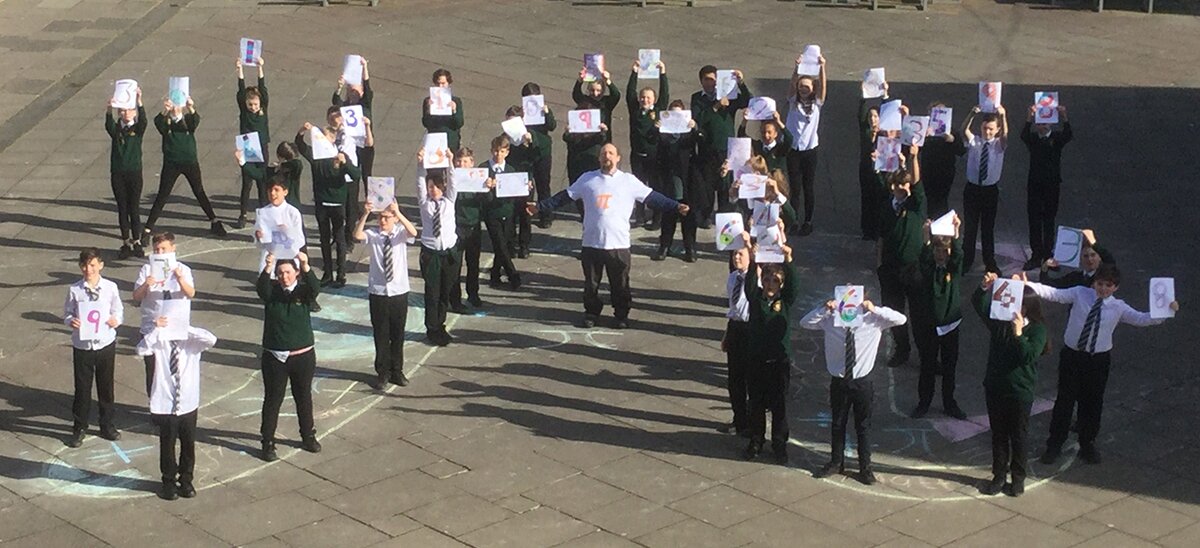 20.03.17 - Pi Day 2017 – Press Report

Pupils at Ysgol Uwchradd Caergybi celebrated world Pi Day last Tuesday with a variety of activities and competitions. The iconic number is celebrated around the world on March 14th (3/14) and has particular relevance to Anglesey, as it was mathematician William Jones (from Llanfihangel) who, in 1706, was the first to use the symbol π to represent the number 3.1415926…., the ratio of the circumference of a circle to its diameter.
Pupils celebrated pi day with activities throughout the day. These included creating a human pi chain, discovering pi by recreating an experiment called 'Buffon's Needles', making pi paper chains, pi day greetings cards and posters. The activities culminated in the annual pi championship where pupils compete to memorize as many digits of pi as possible. This year's winner was Natalie Walters Hughes (year 8) who was able to recite 55 digits from memory. The staff competition was won by Mr Geraint Simpson who recited 80 digits in front of a packed lunchtime crowd. Pupils were also asked to design a poster to celebrate our Welsh connection with pi. The winner was Ellie Corcoran (year7).
Pupils also raised money for the Holyhead food bank by donating money for the teacher they wanted to 'Pi'. The unlucky teacher was Mr Alun Edwards who had shaving foam and squeezy cream Pi's thrown at him, to the pleasure of the large crowd of cheering spectators.

Click here to see more photos

---
16.03.17 - Cyber Bullying

On line bullying has become prevalent in society. At Ysgol Uwchradd Caergybi we have taken steps to support students by employing our ex educational police liaison officer Mr Brian Jones. Mr Jones offers advice to parents and pupils when incidents arise. His engagement in restorative work enables situations to be dealt with as soon as they are reported.
If your son or daughter is being bullied on line or in school please let us know as soon as possible. The sooner we are told the quicker the issue can be dealt with.
Recognising that bullying may and can happen is the first step in making sure that the school is safe. We will do our best to prevent it and to deal effectively with it if it happens. I acknowledge that bullying incidents are stressful not just for the individual being bullied but also on the parents and siblings. I expect all incidents of bullying to be treated seriously and in a consistent way. Therefore, it is crucial that bullies are dealt with according to policy and my intention always will be to educate bullies so that they stop bullying. Where appropriate, we will work with pupils who have been bullied to help them develop the self-esteem and the skills to discourage others from bullying them.
Attached is a useful video providing advice for pupils - click here

---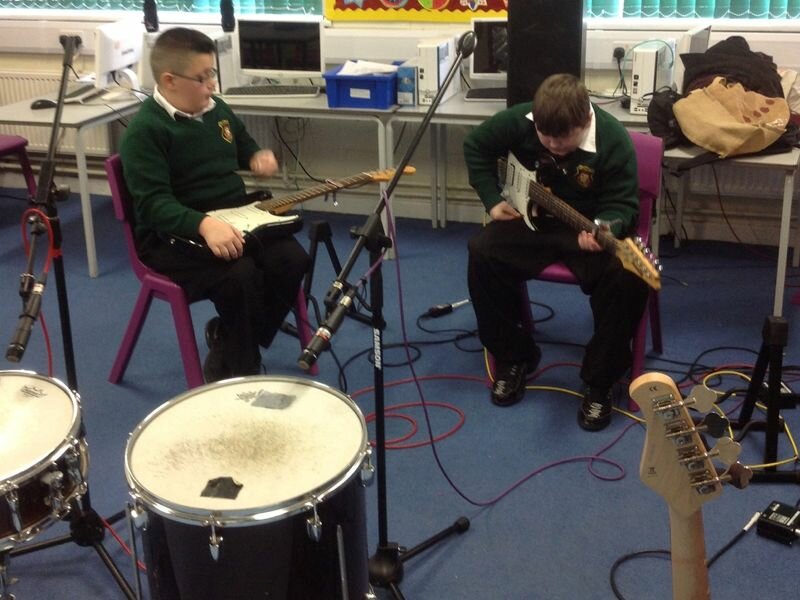 15.03.17 - Project Box Swn

Click here to see more photos

---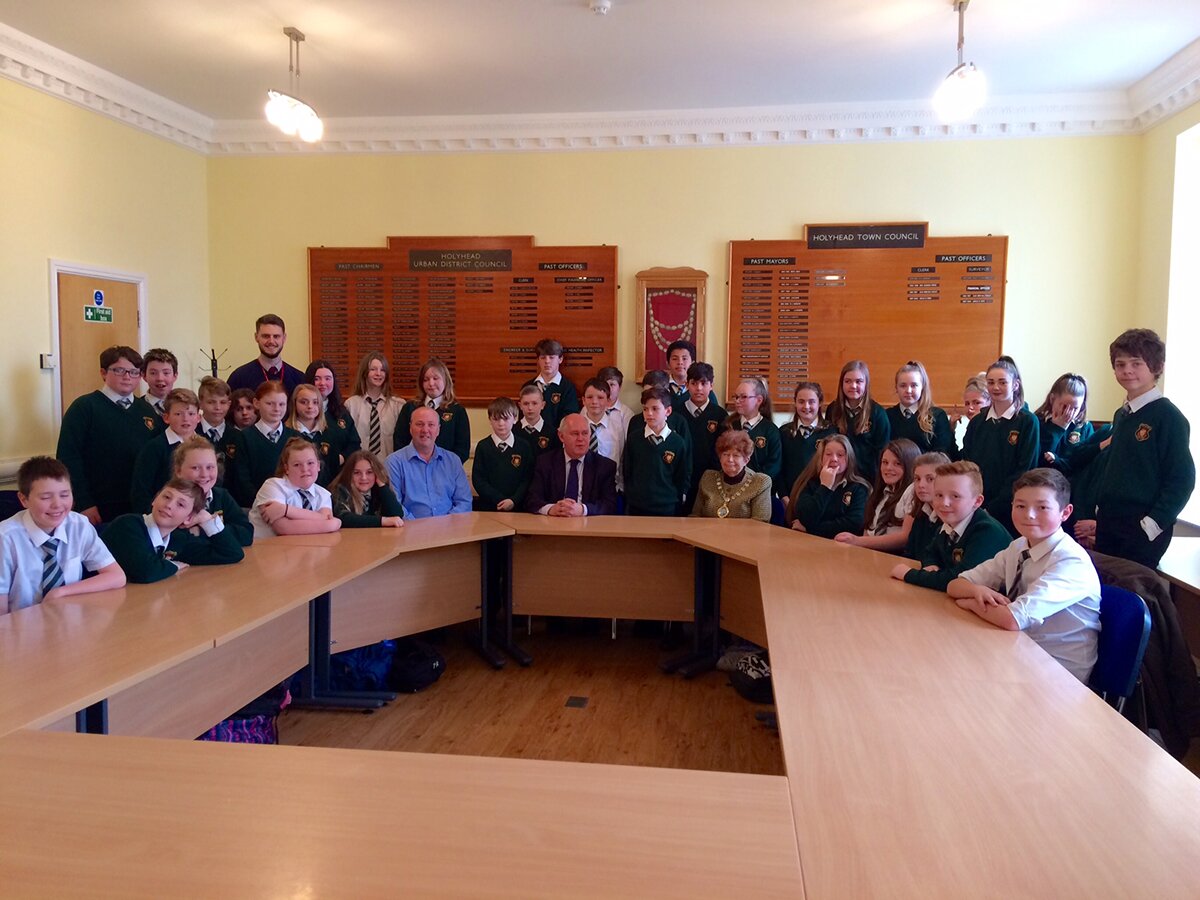 14.03.17 - Town Hall Trip

Year 7 classes taught my Mr Griffiths visited Town Hall on Friday to meet with the Town Clerk, Town Mayor and Albert Owen MP to discuss future improvements to facilities in Holyhead for young people. An informative meeting and a good way for the pupils to see that their voice can be heard.
Click here to see more photos

---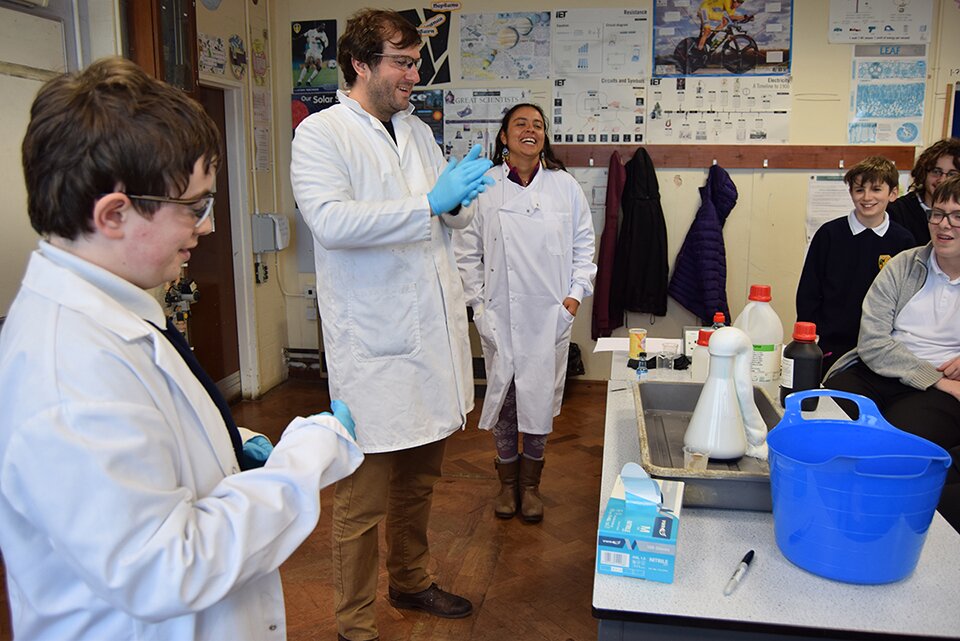 09.03.17 - STEM and MFL Careers Event

As part of their Global Futures plan, the Welsh Assembly Government is currently engaged in a new programme to increase the uptake of languages in schools across Wales at GCSE level and beyond. Each school consortium in Wales is now running events and projects in schools with this aim in mind. In the North Wales consortium, GwE, three secondary schools have been functioning as hubs to coordinate activity around STEM Careers and Languages opportunities. Ysgol Uwchradd Caergybi, has been responsible organising events for the secondary schools in Anglesey and Gwynedd in the current academic year.
We therefore organised a STEM and MFL Careers event for groups of Year 9 students for our schools with a view to inspiring them to pursue their study of languages. The event took place on Tuesday, January 31, 2017 at Ysgol Uwchradd Caergybi, Holyhead, Anglesey.
Ten schools participated in the event, Ysgol Bodedern, Ysgol Syr Thomas Jones, Ysgol Uwchradd Llangefni, Ysgol Dyffryn Ogwen, Ysgol Friars, Ysgol Tryfan, Ysgol Dyffryn Nantlle, Ysgol Botwnnog , St Gerard's School Trust and pupils from YUC who had expressed an interest in opting for Modern Foreign Languages and Science at GCSE.
A hundred pupils in total took part and were able to participate in a variety of seminars run by local and national businesses, organisations and language institutes including the Alliance Française, the Confucius Institute, the Consejerìa, Routes into Languages, Tata Steel, GCHQ, Halen Môn, Horizon Nuclear Power, and Bangor University School of Biological Sciences. Pupils were given the opportunity to consider the advantages which being skilled in a Modern Foreign Language might bring them for example in careers in engineering, business and entrepreneurship, as a language analyst or in scientific research.
Our Year 10 GCSE French students met each of the invited speakers and escorted them to their rooms, where they gave assistance in setting up the presentations. They then greeted their allocated school and acted as their guide for the day, ensuring all pupils and teachers were able to access each presentation. They were commended by speakers and teachers alike for their courteousness and helpfulness throughout the day.
The response from all the pupils who took part was overwhelmingly positive, with one of our teachers reporting that the minibus was 'buzzing' on the way home!
Click here to see more photos

---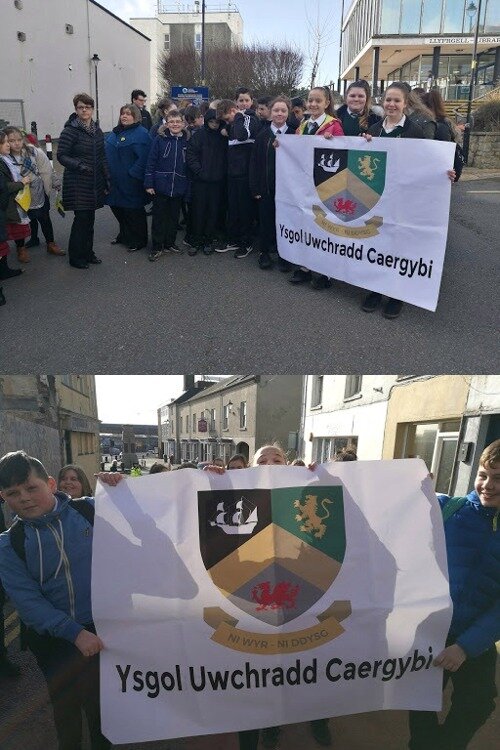 08.03.17 - Pared Gwyl Dewi (Welsh only available...)

Ar Fawrth 1af 2017 cynhaliwyd Pared Gwyl Dewi 1af erioed yn nhref Caergybi. Roedd ysgolion cynradd yr ardal i gyd yn rhan o'r digwyddiad ac wrth gwrs roedd yr Ysgol Uwchradd yno hefyd.
Cafwyd hwyl a sbri ar hyd y Pared wrth i bobl dathlu'r diwrnod a chanu caneuon amrywiol i gofio am ein Nawddsant. Y gobaith ydy y bydd y Pared yn achlysur blynyddol o hyn ymlaen gan hybu Cymreictod yn yr ardal
---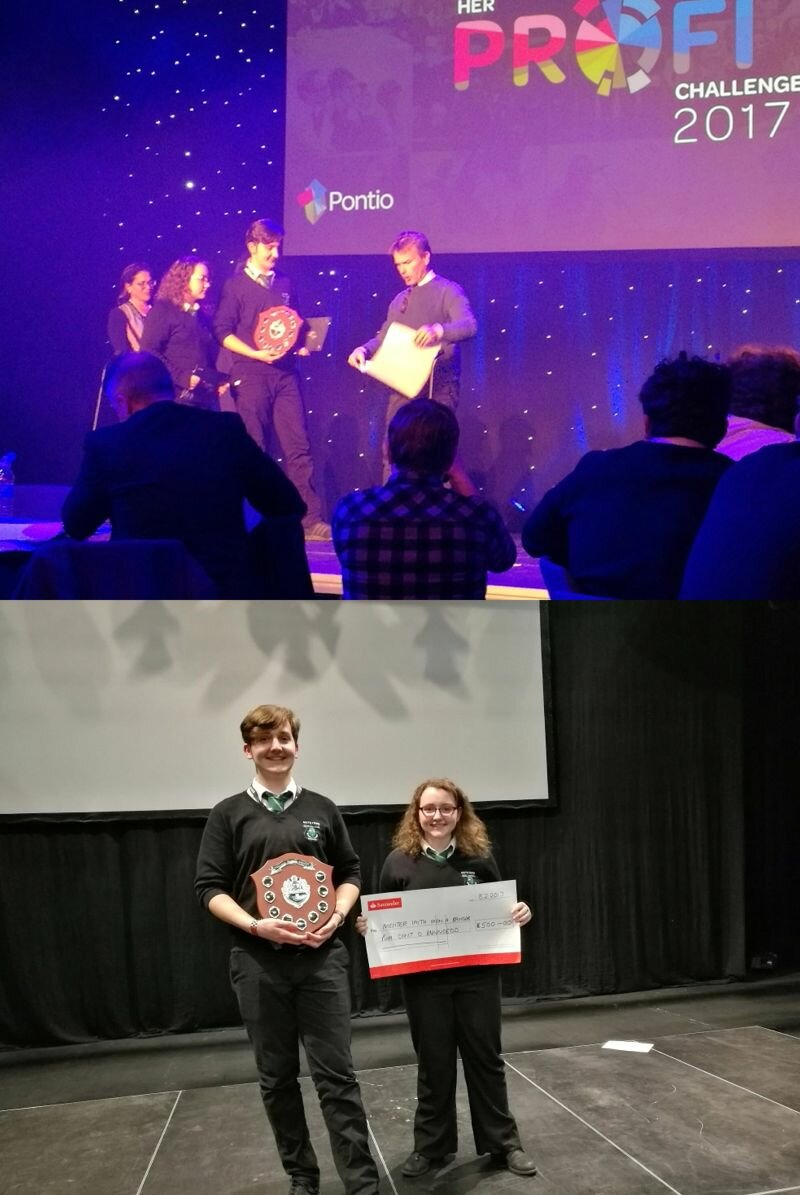 16.02.17 - Profi Challenge

Sixth formers from local schools in Anglesey and Gwynedd competed in the final of the Profi Challenge. This annual competition, organised by Bangor University requires school teams to develop solutions to project briefs set by 'community clients.' This year Ysgol Uwchradd Caergybi's team worked with Menter Iaith.
All the teams presented their ideas in theTheatre Bryn Terfel, Pontio Arts and Innovation Centre, to a panel of judges, including: Greg Evans, Horizon Nuclear Power; Matt Day, Students Union, Bangor University; Diane Taylor, Santander Universities and Iwan Trefor Jones, Corporate Director and Statutury Director of Social Services Gwynedd Council. The event was hosted by BBC Radio Cymru Presenter, Lisa Gwilym. There was even a guest speaker, former international Rugby player and former WRU General Manager North Wales Development Region, Rupert Moon.
This year saw Niamh Keraney and Michael Owen of Ysgol Uwchadd Caergybi winning first prize each with £500 being donated to Mentor Iaith so the ideas can be put into action.

---
02.02.17 - Football

Football match yesterday against Ysgol David Hughes unfortunately both Year 7 and the U14'S lost but tried their best under very bad weather conditions.
Click here to see more photos

---
25.01.17 - Môn Cross Country

Môn Cross Country
Click here to see more photos

---
20.01.17 - Deeside Athletics Championship

Congratulations to Amelia Hucks of Year8 and Aimee Thomas of Year 7 on their recent performance in the Deeside Athletics Championship. Very well done from all at Ysgol Uwchradd Ceargybi
---
20.01.17 - Football Game Results

Football game on Wednesday Holyhead High School lost 4- 0 to Flint but did well to reach the last 16 in the competition

---
20.01.17 - Cricket Session with a Cricket Wales

Many Thanks for the visit it was thoroughly enjoyed by all.

---
18.01.17 - Pob lwc!

Pob lwc i dim nofio Ysgol Uwchradd Caergybi ac hefyd i'r unigolion fydd yn cystadlu yng Nghaerdydd, Ddydd Sul 22ain mewm cystadlaeaeth gan yr Urcdd drwy Gymru.
---
18.01.17 - Good luck!

Good luck to the Holyhead High School Swimming Team and also the individuals who will be competing in Cardiff on Sunday the 22nd in a competition held by the Urdd throughout Wales.
---
18.01.17 - Holyhead High School English Department working with Year 7 pupils

"Year 7 pupils were assigned the task of writing a formal letter to their local MP Mr Albert Owen. The pupils were really eager to deliver the letters to the MP's office.
In response, Mr Albert Owen came to visit the class and discuss the ideas the pupils had about making changes to Holyhead. Mr Albert Owen has also invited the pupils to the Chamber of Commerce and we will hopefully be visiting the Parliament in London as a direct result of the MP's visit!" It was an honour to have Mr Owen in the classroom and we are very humbled by the invitation we received.
Click here to view more photos
---
17.01.17 - Holyhead High School's U15 football team

Good Luck to Holyhead High School's U15 football team who will play Fflint High School in the last 16 of the Welsh Schools Cup tomorrow Wednesday 18th kick off at 1.30
from L- R Steven Owens, Cameron Buckley Evans, Jordan Watts, Josh Malone, Luke Owen, Keelan Ridings, Casey Gregg, Luke Hodgson Arun Pritchard, Coby Doutch, Alex Hebenstreit, Owen Reilly, Cameron Eaton, Luke Jones also playing Daniel Williams, Philip Jones, Mitchell Jones, Liam Woodruff
---
17.01.17 - HOLYHEAD U14 Football team

CONGRATULATIONS TO HOLYHEAD U14 Football team majority of whom attend Holyhead High School and play for the school team. Holyhead Hotspurs U14 won the 3rd round of the North Wales Junior Cup, both managers also previously attended the school.
All the best boys for the next round.
Left to right
Leo Owen, Connor Roberts (YUC), Gethin Owen, Mitchell Roberts, Alex Hebenstreit (YUC), Cameron Eaton (YUC), Josh Chant (YUC), Harry Rees, Coby Doutch (YUC)
Tyler Hughes, Jake Chapman, Sol Williams, Cameron Hughes (YUC), Mathew Lewis, Eathan Condra (YUC), Mitchell Jones (YUC), Philip Jones (YUC)
---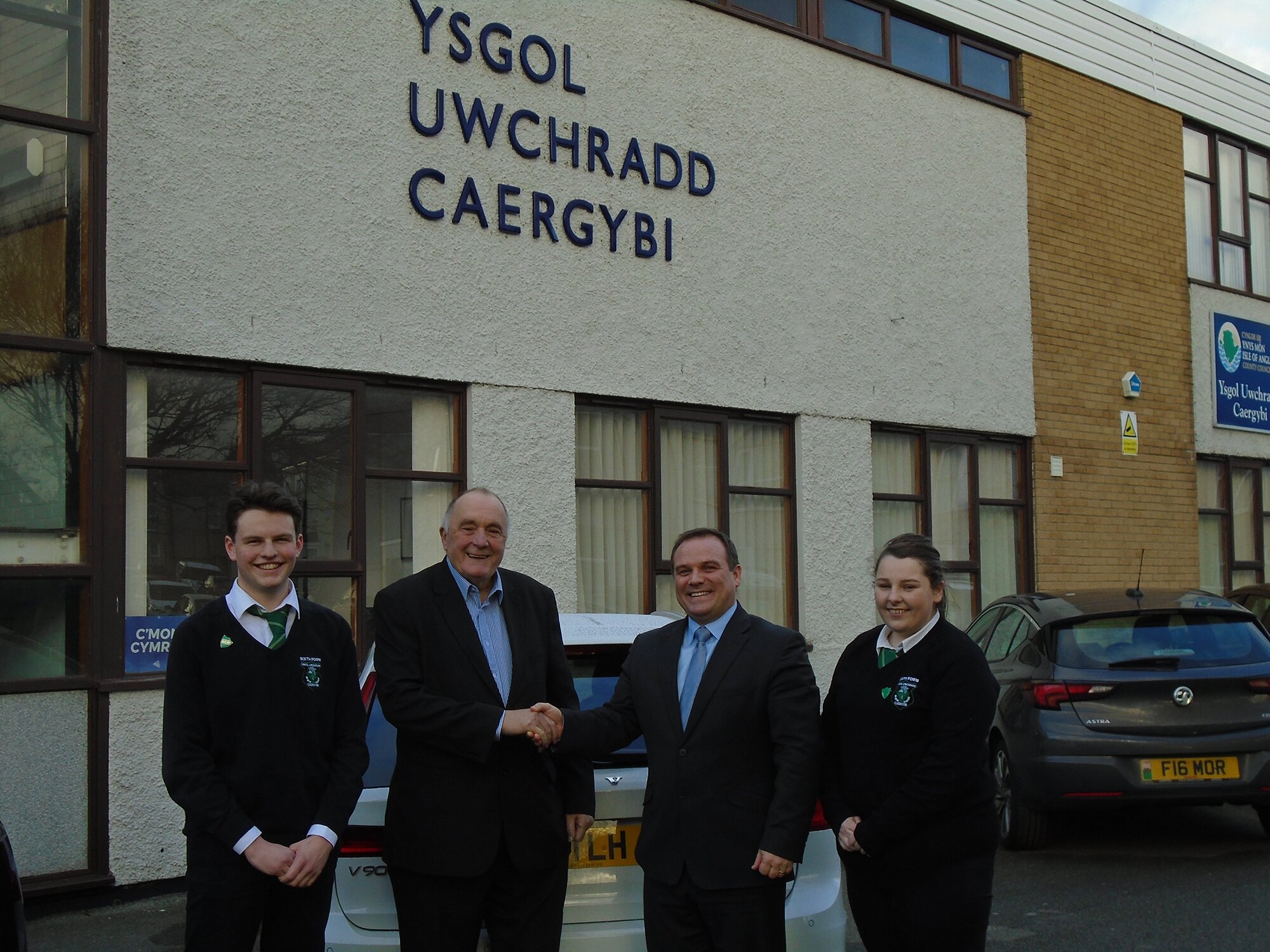 11.01.17 - Councillor Trefor Lloyd Hughes

Councillor Trefor Lloyd Hughes who is our Chair of the Governing body at Ysgol Uwchradd Caergybi has been proudly awarded an MBE for his services in Welsh Football.
As a 15 year old school boy he sold tickets for 10p to raise money for his local football club Bodedern and over the years did everything from putting up nets to running the bath after the full time whistle. Unfortunately for Mr Hughes injury put paid to his playing career at 25 years of age.
Due to the love and passion for the rounded ball he could not cut his ties with football and with his dedication and commitment, became secretary of the Anglesey football league before being appointed general secretary of the North Wales Coast FA followed by his nomination to serve on the Welsh FA's council in 1989 where he held several posts including that of Treasurer and Senior Vice President, honourably he then became President. Now a Life President he is still a European delegate at EUEFA which entails travelling all over Europe to attend matches and conferences.
Mr Hughes juggled his football commitments with work having started as a garage mechanic before becoming an AA breakdown mechanic and then a very well respected Ambulance Paramedic for 34 years until his retirement 5 years ago. Again in his working career he is recognised for his devotion and care and received the Green Robe at a ceremony at the 2007 National Eisteddfod in Mold for his service in the Welsh Ambulance and also for promoting the Welsh language within the FAW.
Trefor is also a committed County Councillor for Anglesey Council representing The Ynys Gybi Ward of Holyhead and was chairman of the Council. He also represents the Maeshyfryd Ward on Holyhead Town Council and was elected as Mayor of the town. A very well respected and devoted gentleman for his constituency.
Councillor Hughes has been a valuable member of Ysgol Uwchradd Caergybi being the Chair of Governors for several years and again his dedication and commitment faultless. We have as a school nothing but praise for the work and dedication he has given and also to the community in which our pupils reside. He has become to many of us at Ysgol Uwchradd Caergybi, as well as all the other establishment, not just a colleague but a personal friend. We sincerely hope he will reign as chair for several years to come.
We would like to congratulate Councillor Hughes on his MBE and all his achievements to date.
All in all a very well deserved award for a hard working devoted ordinary member of the community who has never forgotten his roots or should I say his Grass Roots!! Congratulations Mr Hughes.
---